I was told a courier would pick up the laptop on 22 May between 2pm and 5pm because I'd already completed four return journeys to the Apple store for repairs. I rushed back from work to hand it over, only to find a helpful note telling me they came at 1.30pm and no one was in. I called Apple again and asked to speak to a supervisor. We arranged for a pick up the next day between 9am and 5pm.
I waited in all day and by 4.45pm I got a feeling something had gone wrong. I called Apple and told them this is the second time my computer hadn't been picked up at the correct time and I can't wait in all the time. I told him my computer has been working for three days already and it hasn't even got to the repairer yet. I said it was hardly rocket science to arrange a courier to pick up a laptop. The man got angry and told me it was, indeed, rocket science and arranging a courier was difficult.
My head hurt. I started to cry with frustration. I was a broken woman. He arranged a courier for a third time but I didn't trust Apple anymore and called the repair company direct. They arranged a pick up for the next day. I wrote an email to Apple Customer Service drawing attention to the fire risk and the fact that no one had asked detailed questions about what had happened. I warned that it needed investigation before there were tragic consequences.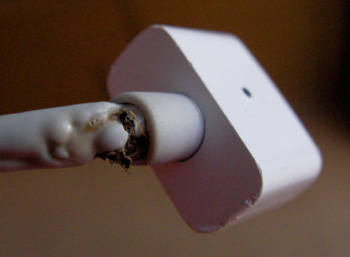 The offending MagSafe cable
The laptop was finally picked up on 24 May and I was told the logic board was faulty and needed to be replaced. Sadly, none were in stock and there were unsure when they were coming in. I felt like pulling out every hair on my body and posting them to Steve Jobs so he could understand the pain I was going through.
On 5 June my laptop was delivered fixed. I called customer services about compensation. I was offered the £54 voucher against a £180 purchase and something worth £49, such as an iPod shuffle. I told her I had been without a computer for 26.5 days and I had been burned too. She refused to budge. I felt £49 was not adequate compensation and contacted Apple UK's head of PR. She looked at the photos of the burn and melted cord and got executive relations to call me.
Executive relations called on 6 June and we went through the health and safety protocol. No one from Apple asked to see the power cord. On 8 June my computer shut down in the middle of writing an article. Later on that night it refused to wake from sleep. After a forced quit it took five goes to reboot. My heart sunk. Over the weekend it got worse. I called Apple on 11 June and an engineer said it sounded like the logic board had gone. How can that be, I asked, just four days after a new one was put in?
Executive relations offered me a replacement MacBook as compensation if I agreed to drop any other compensation claim. I was so desperate for a machine that works that I agreed. I was told I would have to sign an agreement form. I waited until 20 June for the form to be posted to me. I contacted the head of PR again for help and a new person from executive relations called on 21 June and upgraded the machine to a MacBook Pro. I signed the form and on 30 June my new machine arrived.
While I have got a £1,200 machine instead of a £700 laptop, it is little compensation for the stress of trying to get a working Apple laptop. I've been without a functioning computer for 55.5 days in the last 12 months, I've had to refuse work, I've been burned by a power cord, I've lost three CDs, DVD movies and all the data on a hard drive. I've driven to Bluewater four times (around 400 miles). But, worst of all, I've spent hours on the phone to Apple trying to sort out this enormous mess.
When I agreed to the upgrade as my compensation I thought my experience of a melted MagSafe was uncommon. But a quick check in flickr shows a different story, as do reports on AppleDefects.com.
Had I known this while talking to executive relations I would have pushed the issue of health and safety much further. Instead, I've asked Apple why there hasn't been a product recall and what it takes to agree to one. They have said...well, nothing.
So, I'll say this. Until there is a product recall, do not charge up your MacBooks unattended and never near flammable materials. ®
Similar topics