With a month to go before Sony's slimmed down second-generation PSP hits the shops, reports have already begun circulating about less cosmetic changes to the console's design, including a battery adjustment among other tweaks.
A manual purportedly covering Sony's new PSP - aka the PSP-2000 - shows that the console's WLAN switch has been moved from the side, a location which often caused gamers' hands to knock the switch on and off. Apparently the switch is now on the top of the console, alongside the USB connector.
The manual pictures have been uploaded onto a blog: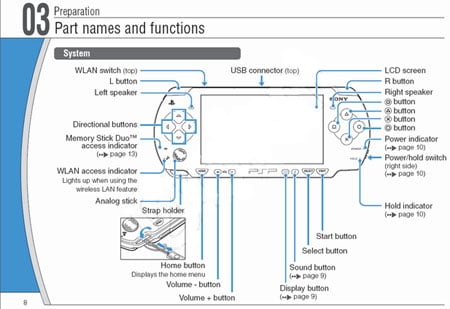 A page from Sony's 'PSP Slim' manual?
Battery life on the slimmed down PSP may also have been extended as well, with the manual pics apparently showing that battery life for game play is between three and six hours, while for video playback it is between three and five hours. That's pretty much what the currenty model, the PSP-1000, offers. However, the new battery's rating has been downgraded from 1800mAh to 1200mAh, so Sony seems to be getting as much life out of the slimmer battery as it was from the thicker one.
The PSP-2000 has a new remote control that's incompatible with the PSP-1000 equivalent, the manual reveals.
Separately, it appears the memory installed in the new PSP has been upgraded from 32MB to 64MB.
Sony has yet to officially comment on the specifications of the slimmed down PSP beyond revealing the device's new, more svelte dimensions and that it sports a video-out port.