Those of you who didn't have sufficiently deep pockets to bid for the Enigma machine which last year sold on eBay for a cool €55k might be interested in another example that's currently going for $16,200 (€11,700).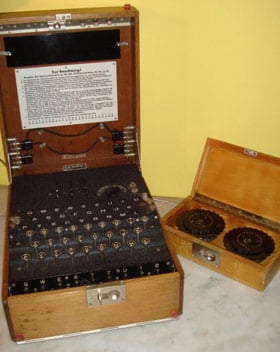 Details on this example are pretty thin on the ground, but the seller does note it's "in mint conditon, all original, nor restored and complete", and also comes with replacement lamps.
Should you be successful in getting your hands on this desirable piece of history, we might suggest sending a suitably provocative message to Bletchley Park, which last year unveiled a replica Turing Bombe - the revolutionary device which automated the process of cracking Enigma messages.
Bletchley Park also recently announced it will become home to a UK national museum of computing, featuring a rebuilt Colossus Mk2 - instrumental in deciphering the Lorenz codes used by German High Command. Other attractions will include mainframes, super computers and old personal computers restored with the help of the British Computer Society's Computer Conservation Society. ®