This article is more than 1 year old
The IBM ThinkPad: 15 years old today
The iconic black laptop celebrates its birthday
Forgotten Tech The ThinkPad is 15 today. Sort of. Launched by IBM and now made by Lenovo, the black-clad laptop family quickly established itself as an icon, in many ways re-establishing Big Blue's reputation as a PC maker after years in the shadow of the clone manufacturers.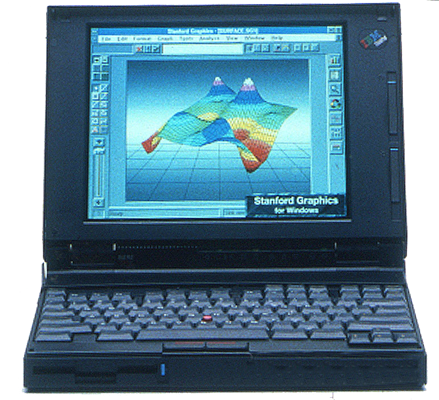 IBM's ThinkPad 700C
The first two clamshell-styled ThinkPads, the 700 and the 700C, were launched on 5 October 1992. Some people claim they were announced at Comdex Fall, but that took place more than a month later, on 16-20 November. Still, the new notebooks would have had their first full public outing at the show.
But if they didn't appear until 5 October, why is today the ThinkPad's birthday? Read on...
The 700 was based on a 25MHz Intel 486SLC processor backed by 4MB of memory and a choice of 80MB or 120MB hard drive. Its screen was a 9.5in, 640 x 480 monochrome job, physically smaller than the 10.4in, 640 x 480 active-matrix colour screen fitted to the premium-priced 700C. The higher-end model had the same processor as the 700, but a removable 120MB hard drive came as standard though buyers could choose either 4MB, 8MB or 16MB of memory.
Both machines contained nickel metal hydride batteries good for almost four hours' use, IBM claimed at launch. The 700C weighed in at 3.5kg (7.6lb), while the 700 was 3kg (6.5lb). The price was hefty too: a cool $4,350, worth rather more in 1992 than it is today. The 80MB 700 cost $2750, the 120MB version $2950.
No great innovation among those specs, but the ThinkPad did introduce - or at least popularise - the TrackPoint controller, a tiny joystick built into the keyboard between the G and H keys, in place of a touchpad or, in those days, a touchball.
The 700 and 700C could each be connected to a specific version of the 3550 Expansion Unit, a docking unit IBM introduced on the same day. The 3550 allowed users to connect SCSI devices, and added VGA, keyboard and mouse ports, along with serial and parallel connectors.