On 5 October 1992, IBM also introduced the ThinkPad 300, actually made by Zenith Data Systems. It was powered by a 25MHz 386SL processor and fitted with a monochrome 640 x 480 display. Again, it shipped with 4MB of memory and a choice of 80MB or 120MB hard drive. And it too had an Ethernet port.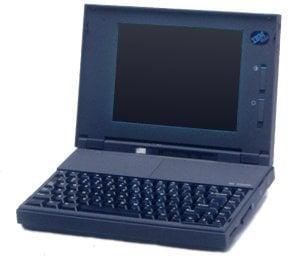 IBM's ThinkPad 300: slower than the 700 but longer-running
If the 700 series' selling point was performance, the 300's was battery life. The laptop was said to be capable of running for up to ten hours - unthinkable by today's standards. The suggested retail price for the 80MB ThinkPad 300 was $2375, while the model with the 120MB drive cost $2575.
The ThinkPads 300, 700 and 700C defined the core design of the laptop line, defining the way their successor would look right up to the present day. That arguably makes them the first true ThinkPads as we understand the brand name today. But they weren't the first IBM machines to carry the ThinkPad moniker.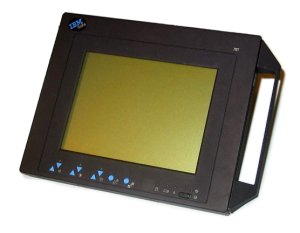 IBM's 2521 ThinkPad... er... ThinkPad 700T
That honour goes to the IBM 2521 ThinkPad - known at the time as the ThinkPad - a pen-operated portable that Big Blue actually announced on 17 April 1992, but which didn't ship until the following July - hence, according to Lenovo, today's anniversary. It comprised a 20MHz 386SX processor, 4MB or 8MB of memory, a 10in, 640 x 480 monochrome display and a built-in 2.4Kbps modem. Serial and parallel ports, and connectors for an external floppy drive and a keyboard, were part of the spec too.
Amazingly in an era long before the current debate over the future of hard drive technology and the emergence of Flash-based alternatives, the 2521 incorporated a 20MB solid-state drive. The 2521 ran PenPoint, an tablet-oriented operating system from Go Corporation.
Come 5 October, IBM renamed the 2521 the ThinkPad 700T to bring its naming into line with the three new laptop models. It also tweaked the design slightly to make it more robust.
The following year, on 4 May, IBM rolled out the ThinkPad 720 and 720C, upping the original 700-series models' 25MHz processor with a 50MHz version.