Review At first glance, Logic3's i-Station IS10 may seem like just another one of the infinite number of iPod accessories currently available. But actually, when you think about it, the IS10 offers the forgotten freedom of waking up to music of your chosing.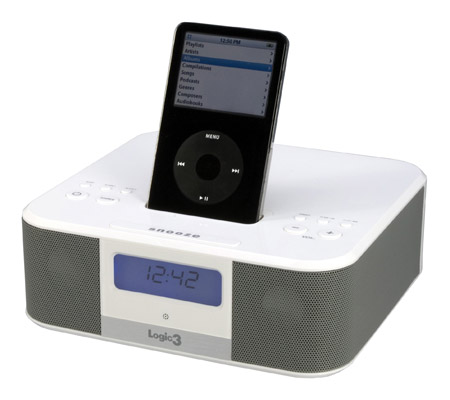 Logic3's i-Station: comes in a nice shade of white...
Let it sink in for a moment. Oooh, yeah... Why should we have to endure the self-indulgent, sycophantic drivel that pours forth out of the mouths of almost every DJ on air? Instead we can wake to the sounds of Beethoven's 6th Symphony - should the sunlight of a Spring-like morning stream through the bedroom window, for example. Or something more upbeat to inject a little energy into the otherwise painful process of getting out of bed: Trash City by Transvision Vamp. Perhaps something by The Prodigy, if you plan to extend that lie in and rush getting ready in the morning.
Since most people's entire music collection is more or less contained on their iPod – something that removes the painful procedure of having to stop the tape in just the right place (ah, nostalgia) or even locate that particular CD – your choice is as big as your playlist, it's instantly accessible and takes seconds to set up.
Alarm clocks with iPod docks aren't a particularly new idea - let's face facts, pretty much every domestic product now comes with iPod compatibility. Of course, if you own an MP3 player other than an iPod, well, you're pretty much flummoxed.
For what seems to be at first glance a standard issue alarm clock, straight away out of the box the i-Station IS10 feels like it packs a little bit more, and this is first apparent when glancing over the simple design and build quality. It definitely doesn't pretend to be anything flash, but instead achieves its style through understatement.
Some might say it's just plain. Boring even. And it's pretty basic, granted. But the sound quality that comes out of the two full-range speakers and sub-woofer packed into this plain little product is better than most sets of travel speakers, and certainly most alarm clock radios.
Setting the clock and alarm is extremely simple and the button to select the Set mode and then Lock is neatly located at the back of the machine with each respective setting at either end of the slider-style switch. So, far left to Set and - click-click-click - you're at far right to Lock the time.
Select your favourite tune on your iPod, slot it into the dock, lie back and wait for the Sandman to come and visit. Or to wake you up, if you're a Metallica fan...