This article is more than 1 year old
Intel Core 2 Duo E6750 2.67GHz desktop processor
Bargain?
Review Earlier this week, we reviewed the impressive yet ridiculously expensive Intel Core 2 Extreme QX6850. Now it's the turn of another processor Intel announced this week, one that you can actually afford, the Core 2 Duo E6750.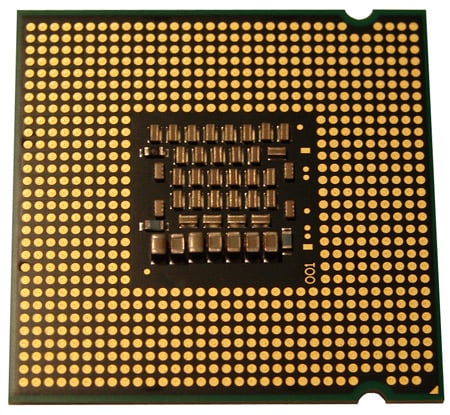 Intel Core 2 Duo E6750
Intel's new 1333MHz frontside bus hasn't made a dramatic difference to the quad-core Extreme processor, but it's a step in the right direction. Or rather, it's yet another step in the right direction as the Core 2 steamroller continues to crush the AMD opposition. If you glance at our review of the MSI P35 Diamond motherboard with the 2.93GHz QX6800 and the 3GHz QX6850 installed, you'll see that the move to the 1333MHz FSB adds one or two percentage points of performance and you get a similar boost from the DDR 3 memory the board supports. However, DDR 3 costs so much more than common or garden DDR 2 that the small gain in performance it brings doesn't make economic sense.
The real shocker is that Intel's latests pricing plan makes some 1333MHz CPUs cheaper than 1066MHz parts.
At the upper end of the desktop processor market, this doesn't make a lot of odds, as the QX6800 costs £750 while the new QX6850 is £680, so both processors are beyond the reach of anyone on a normal income.
Move down the scale and we find the E6700 at £199, which is good value, but the new E6750 is listed on-line at £149, and that's a bargain. Both processors have the same 2.67GHz clock speed, 4MB of L2 cache but that £50 price differential clearly makes the 1333MHz FSB the way to go at upgrade time.
This is especially true if you can drop the E6750 into your current P965 motherboard in place of a slower Core 2 Duo or - God forbid - a single-core Pentium 4.