If you've already considered a home cinema system but been put off by the thought of all that bulky equipment and complicated set-up procedures, Sony thinks it has the answer for you: the Bravia DAV-X10.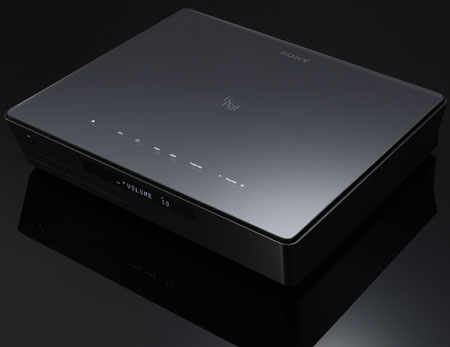 Sony's DAV-X10: compact yet powerful
The DAV-X10 home cinema system comprises a pair of 80W surroun-sound speakers, an 80W sub-woofer and a sleek black operational unit, compatible with regular DVDs, DVD&177;R/RW discs, Sony's own Super Audio CD format, Video CD, DivX and MP3 discs.
The operating unit connects to your TV via HDMI and is capable of upscaling the resolution of standard DVDs to 720p and 1080i, ready for display on an HD TV, but there is no mention of compatibility with with Blu-ray or HD DVD formats. Earlier this year Denon launched a similar DVD-to-HD home upscaling system.
Sony has also built a digital media port (DMPort) into the main unit, enabling users to connect peripheral devices directly into it, such as the bundled DMPort Bluetooth adaptor, although why Sony didn't just build Bluetooth into the main unit is anybody's guess.
One of the main unit's sleekest features is its glass top panel and "light touch" buttons that.. er... light up when touched and than fade away after a few seconds, so as not to distract your eye when you're watching a film.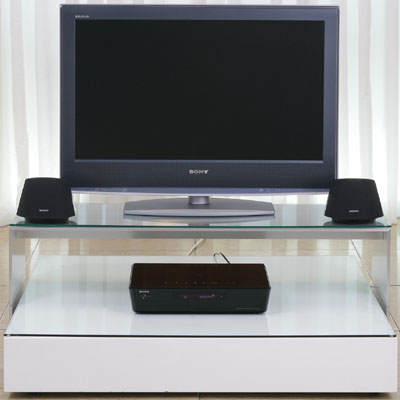 How the DAV-X10 might look in your home
A pair of speakers is also included with the DAV-X10, which use Cinema Auto Calibration technology to automatically check the position of the speakers and then automatically set the optimum parameters for convincing surround-sound music and movies, Sony claimed.
The Sony DAV-X10 will be available this September, but its price has yet to be announced.