Although the Star Wars Darth Vader "laptop" is marketed as a learning device, we're not sure if it truly is something for the kids or more for you die-hard fans of the Dark Side.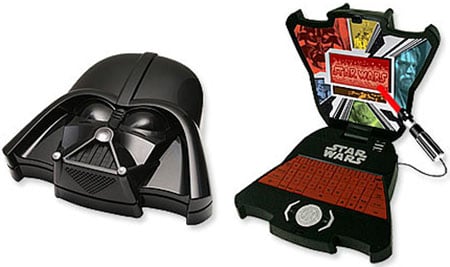 The Star Wars Darth Vader laptop: an open and shut case
The first thing to catch your eye is its design. The flattened Darth Vader mask opens up to reveal a compressed QWERTY keyboard and, instead of a mouse, an extendable light sabre is used to select and guide users around the device's 50 games.
Users can play as either a Jedi Knight or Sith Lord, and each game is designed to train young reflexes, typing skills and rhythm. And to help develop enough hand-eye coordination, memory skills and musical talents to see off any invasion from the Dark Side. Apparently.
The light sabre also has lights and motion sensors embedded within it so that users can 'shhhwing' it around in true Star Wars style. Adn get some Wii Remote practice in while they're at it.
The laptop uses the force of three AA-size batteries.
A UK price or release date is yet to be beamed across.