Taser markets electric cattleprod gun to the laydeez
Available in shocking pink, naturally
It's well known that if you want to sell women stuff, it needs to be pink. There's just something about the colour that triggers a possessive lust in their illogical minds, forcing them to buy things. Apparently.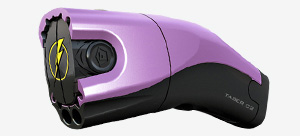 Taser C2: the handbag just got more dangerous.
The pink girly-marketing phenomenon is already established, but today it crossed a new frontier.
Taser, maker of electric cattleprod-dart stunguns to the world's police forces, yesterday began shipments of the "highly anticipated C2 Personal Protector".
The company is making a strong push to sell this to all those girls out there who don't like nasty guns, riot gas, telescopic truncheons, or suchlike boy's toys; but who still want to be able to leave annoying people thrashing and sizzling in the dirt, Dark-Jedi style.
The C2 boasts a "non-gun design" which is "light, sleek, hand-held... can fit in a pocket or a purse." It's available in "four designer colours: Black Pearl, Titanium Silver, Electric Blue, and" - of course - "Metallic Pink."
"We designed the Taser™ C2 by listening to our customers," said Kathy Hanrahan, president of Taser. This seems a bit odd, as her customers at the moment are mainly coppers looking for an alternative to shooting people.
"Our focus since 1998 has primarily been in the law enforcement arena," admits Hanrahan. "However, over the past year our engineers were able to provide our technology for consumer self defense at an affordable price."
Base price is $300 - a trifling sum, no doubt, to see a tiresome boyfriend's skeleton flashing on and off through his skin.
"I will control my own destiny," says the Taser C2 webpage. "In today's world, maintaining self confidence involves the need for self protection. For independent, self-reliant women, the TASER™ C2 is an effective protection device that fits any lifestyle ... Buy Now."

And if you get in my way I will electrocute you.
"It is a woman's product," Ms Hanrahan told the New York Times, which obligingly filed its writeup in the "Fashion and Style" section.
Opinion at Vulture Towers was divided. ®