This article is more than 1 year old
MS: Zune 2.0 to arrive in time for Xmas
Jingle bells
Microsoft has confirmed it will detail its second-generation Zune media players in time for the Christmas sales season. Speculation as to what the software giant will announce currently centres on a higher capacity hard drive model and a cheaper, Flash-based Zune.
According to blog Whizbyte, an MS representative emailed it to say: "Zune follows the cycle of the consumer electronics cycle so you can expect an update later this year prior to the holiday season."
The US holiday season covers not only Christmas but also November's Thanksgiving break, a key point for consumer electronics purchases.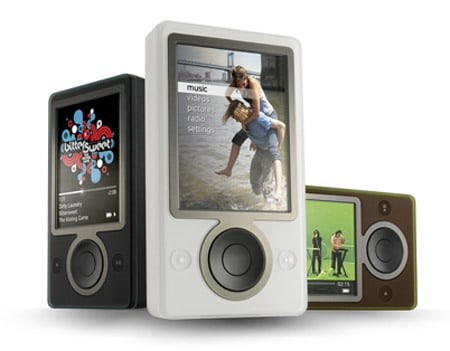 MS' Zune 1.0: not now coming to Europe?
The MS spokesperson provided no other details about the anticipated announcement, but did suggest that's it's not hard to guess where the company is heading: "new sizes, styles and price points" for the Zune line; more features to bring the player "towards parity with iPod... at the same time build on key differentiators such as the wireless feature, the FM tuner, etc"; and expansion of the "international footprint of Zune... when we can ensure an offering which is tailored to that market."
Zune - reviewed here - is not expected to appear in Europe until 2008, based on pronouncements Microsoft has made a number of times in the past. And with new models coming later this year, it looks like we're not going to get the original model after all.