Novatel Wireless preps 'smallest' HSUPA modem
Five times the upload speed of HSDPA
Data-over-cellular specialist Novatel Wireless last week unveiled what it claims is the "world's smallest" USB-connected HSUPA modem, a slimline stick that allows a computer to connect to next-gen 3G phone networks.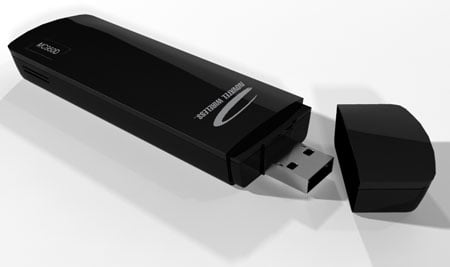 Novatel's Ovation MC950D: HSUPA by USB
The Ovation MC950D looks like a large USB Flash drive or a USB TV tuner dongle. Plug it in and you get HSDPA download speeds of up to 7.2Mbps, Novatel said, and HSUPA-accelerated upload transfers of up to 2.1Mbps.
Such speeds assume the carrier you're connecting to has enabled them, of course. While UK carriers are pushing ahead with 3.6Mbps HSDPA, there's no commercial HSUPA-enabled network over here. HSUPA builds on the 128Kbps uplink speeds of basic 3G, rising to 384Kbps with HSDPA.
And if there's no HSUPA, HSDPA or 3G network in the vicinity, the MC950D will drop to GPRS/Edge, Novatel said.


Novatel's Ovation MC950D: world's smallest?
The company said the product is expected to go on sale later during the coming two months and beyond through a number of European mobile phone networks. It would not say how much they're likely to want for it.