Dubai claims world's tallest building title
Dubai Tower hits 512.1m
Dubai declared on Saturday it now boasts the world's tallest building, with the Burj Dubai (Dubai Tower) scraping the sky at 512.1m (1,680ft) a year before its slated completion.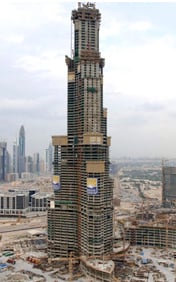 The Burj Dubai, built by South Korea's Samsung, now stands at 141 storeys, outstripping Taiwan's Taipei 101 which rises a modest 508m (1,667ft). Developer Emaar Properties is keeping tight-lipped on the $1bn structure's final vital stats, but says it will eventually be "more than" 700m (2,296ft) tall and have "more than" 160 storeys.
This reluctance to divulge the full facts may be a response to rival local developer Nakheel, which has announced it will build the equally inspirationally-titled "Al-Burj" (The Tower) - "whose projected height also remains a closely guarded secret", as the Gulf Times puts it.
The Burj Dubai is the centrepiece of a $20bn complex comprising "30,000 apartments and the world's largest shopping mall" - suitably dubbed "Downtown Burj Dubai". ®
Bootnote
For those among you interested in such things, here are same more record-breaking Burj Dubai facts, courtesy of Emaar:
When completed, Burj Dubai will have consumed 330,000 cubic metres of concrete, 39,000 metric tonnes of steel rebar and 142,000 square metres of glass – and 22 million man hours. The tower will have 56 elevators travelling at 1.75 to 10 metres/sec and double-decker observatory elevators that can carry 42 people at a time.

More than 313,700 cubic metres of reinforced concrete and 62,200 tonnes of reinforcing steel have been used in the tower's construction so far. Burj Dubai has already set a new world record for vertical concrete pumping for a building by pumping to over 460 metres (1,509 ft). The previous record of 448 metres (1,470 ft) was held by Taipei 101.