Transformers, MP3 players in disguise
The phrase 'milking it' comes to mind, but we weren't really that surprised to hear that the Transformers characters, about to morph themselves onto the big-screen, have been reborn by a selection of vendors as MP3 players and accessories.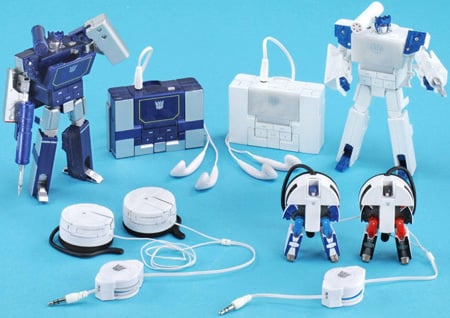 Transformers: watch out iPod...
Although technical specs are a little scarce, Soundwave has been 'transformed' into an MP3 player as part of a joint venture between vendors Tomy and Takara. Soundwave has basically had his cassette player heart ripped out and replaced with an SD card slot. The usual headphone jack and volume/track selection buttons are present and he's available in "spark blue" or white.
The Soundwave MP3 player is more about making a statement than playing music though, with its transformation abilities probably able to keep you entertained long after the battery runs out.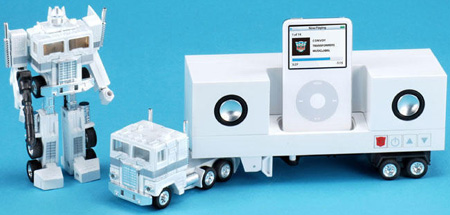 ...or maybe not
Optimus Prime, aka Convertor, has also shifted shape into an iPod docking station through use of his trailer. While Frenzy and Rumble have morphed into headphones since their TV heyday.
The Soundwave MP3 player is available here now for around £90 ($43/€65), while Optimus Prime, Frenzy and Rumble are expected to be released later this month for ¥15,570 (£62/€92/$127) and ¥3,150 (£12/€18/$25) respectively.