Panasonic has expanded its range of Lumix wide-angle digital cameras with the addition of a seriously professional-looking 8.1-megapixel model with 18x optical zoom. It also release two new compact models.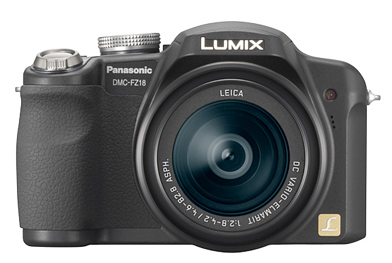 Panasonic's Lumix DMC FZ18: Leica lens
Since Panasonic's DMC FZ18 has a 28mm wide-angle lens. This is complimented by a specialist automatic settings mode that detects the image surroundings and then selects the optimum settings for it, such as portrait or night-shoot.
The camera, which is available in silver and black, also includes face-detection technology, a fairly standard feature already built into many cameras, like the Samsung's S85 series, and a continuous auto-focus. A custom setting also stores your frequently made settings, so they can be selected quickly from the camera's menu dial.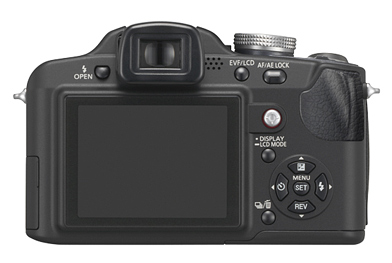 Panasonic's Lumix DMC FZ18: round the back
A maximum sensetivity of ISO 1600 is available, while the body has a 2.5in LCD screen sitting at its rear. It has 27MB of on-board memory, but can also take SDHC memory cards.
At the lower end of the scale, the DMC FX33 and FX55 also offer 8.1-megapixels and 28mm wide-angle lenses, but have a shorter optical zoom than the FZ18 - just 3.6x. However, many of the increasingly standard features are included, ranging from face detection to image stabilisation.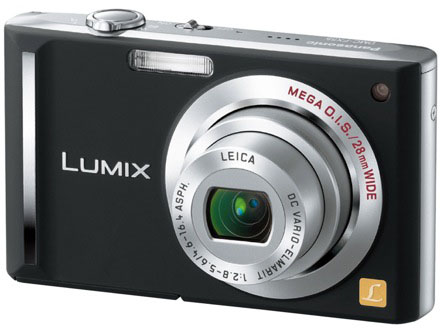 Panasonic's Lumix FX55
The FX33 and FX55 do differ slightly in their LCD screen size, measuring 2.5in and 3in, respectively. Both have the FZ18's 27MB built-in memory. Each also have a high-sensitivity mode that gives a maximum ISO 6400, which Panasonic claims is enough to shoot in low light levels without the need for a flash.
A burst mode is also included in both models, which allows users to act like paparazzi and shoot up to seven images per second.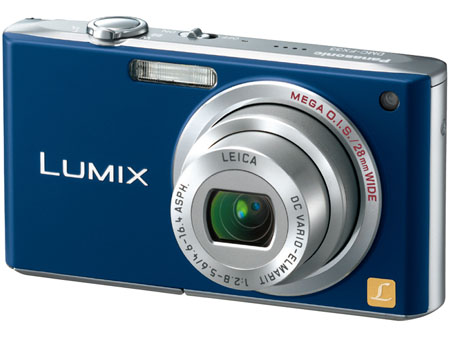 Panasonic's Lumix FX33
Both models will also be available in September, with the FX55 available in silver, black and pink and priced at $350 (£175/€200). The FX33 will be available in silver, black, blue and brown and will retail for $300 ($152/€185).
Panasonic's Lumix FZ18 will be available in September for around $400 (£207/€261).