Can it be true - a self-filling digital music player? That's what Sony claims for its new Walkman NWD-B100, a Flash-based DAP with the ability to pull tracks off a PC as soon as it's connected.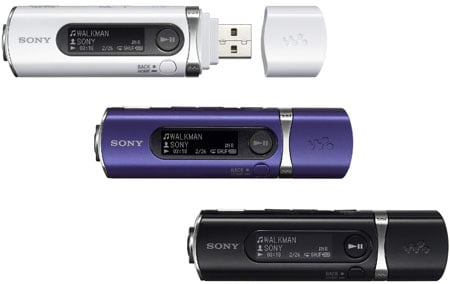 Sony's NWD-B100: self-filling
The 30g B100 has a built-in USB connector a la the first generation iPod Shuffle and once mounted grabs for itself all the tracks you most recently added to the music folder on your PC. Add two albums' worth of new songs and the player auto-deletes that number of the oldest songs already in its memory. No software is required, Sony said.
The consumer electronics giant also said you can drag and drop songs over to the player, which comes in versions with 1GB and 2GB of storage.
The B100 sports a three-line colour LCD for track and status data, a six-band equaliser and an FM radio from which you can make recordings. You can also record through the player's microphone. If you have a compatible Sony hi-fi, it can play songs stores on the the B100.


Sony's NWD-B100: three-line display
Sony said the B100 will be available shortly in a choice of black, white and violet. There's no word yet on pricing.