Power outage knocks out major websites
So much for redundant power supplies
Some of the net's biggest websites went dark following power interruptions in San Francisco that are disrupted operations at co-location facility 365 Main.
Websites for Craigslist, Typepad, Yelp, Livejournal and Redenvelope were all shuttered at the time of writing, and Sun's site was down earlier today. All these sites are customers of 365 Main.
"There's a notion that redundant power supplies at 365 Main, maybe they didn't kick in," Craigslist founder Craig Newmark told El Reg. He said Craigslist engineers were in the process of trying to understand the cause and extent of the outage. Those attempting to visit the online bazaar were greeted by a message saying the site and many others were down due to "issues at the colo facility."
A spokeswoman for 365 Main said a "major power event ... impacted business operations for many San Francisco based companies, including 365 Main's San Francisco data center." Officials were running on emergency generators and operations at the co-location site have since been fully restored.
Shortly after an earlier version of this story was published, websites for Yelps and Craigslist came back online, although the latter site was noticeably sluggish.
Redenvelope continued to be unavailable, the same day PR monkeys issued a press release celebrating the site's "two years of 100-percent uptime at 365 Main's San Francisco facility." Oops.
According to Valleywag, a small mob of people began lining up at 365 Main's offices and bike messengers could be seen dropping off packages an hour or two after intermittent power failures began hitting residents in downtown San Francisco. The Silicon Valley gossip site speculated the flurry was the result of customers who were unhappy that their sites were no longer available.
The San Francisco Chronicle said at least 20,000 San Francisco customers lost power on Tuesday afternoon. The paper cited a spokesman for Pacific Gas & Electric who said outages had been reported in the city's Financial District and in several other neighborhoods.
The outage appeared to leave many - but not all - customers of 365 Main temporarily unable to publish online. Sun and Linden Lab, the company behind Second Life, were both online at time of writing. Newmark said it was unclear what allowed those sites to escape going down.
During the outage, a message on Craigslist read: "Error. Craigslist and many other sites are having issues at the colo facility. Please sit tight, and try again later. We are aware of the situation, and the happy craigslist elves are scurrying to make it better, even now."
Yelp, the local review website, aimed for a more humorous tone. The site featured a picture of what appeared to be a chocolate lab with an ethernet cable in its mouth.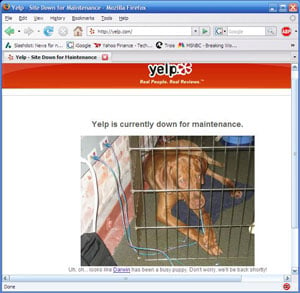 Out with a yelp: This message greeted those trying to visit the reviews site.
"Uh, oh," the message read. "Looks like Darwin has been a busy puppy. Don't worry, we'll be back shortly!" ®