Stripogram councillor rocks Devon Lib Dems
Click here for 'multi-talented' politico
Three Devon councillors have quit the Liberal Democrats after discovering that a fellow party member is offering herself as a £75 a pop topless stripogram, the Telegraph reports.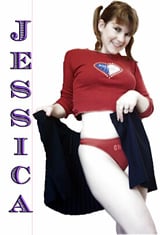 Myrna Bushell, 34, secured a seat on Bideford council in May, along with hubby Mel. Voters were probably unaware, however, that she leads a double life as "Jessica", a "very sexy auburn professional multi-talented adult & non-adult entertainer" who's shamelessly punting herself online.
She also apparently runs a £1.50-a-minute sex line from her home, which proved too much for Tony Inch, his brother Simon, and deputy Mayor Caroline Church who harrumphed out of the Lib Dems and now sit as independents. A joint statement issued by the three declared: "We believe that our integrity and principles will be compromised if we stay."
Bushell retorted: "There are elements here that run deeper. The reason I do them is to pay my bills and be able to spend quality time with my family. It's not incompatible with being an elected councillor and it's not illegal. Three people seem to be upset but no one else is - I've got to earn a living somehow. Caroline Church hasn't liked me from the beginning."
Council clerk George McLauchlan confirmed Bushell had "not breached the councillors' code of conduct because her business activities do not impinge on her duties as a councillor". ®