Poor NASA. They've truly suffered through a woebegone week of bad news.
First, the space agency was slammed for losing $94m worth of equipment. Then a space station computer was sabotaged by a subcontracting company. Finally, an internal investigation has found that some astronauts were dangerously drunk during takeoff.
Last Friday they were celebrating the anniversary of the moon landing and promising to establish a base there. This Friday, they're defending themselves from being labeled as incompetent, drunken saboteurs.
Sometimes the fickle finger of fate pokes you in the eye.
Our earlier report that NASA would release findings of sauced space explorers has proven to be correct. With report in-hand, we can now look at the details.
Let's see...details...
Oddly, for a report with such an embarrassing finding, it remains vague on any specifics, or even measures of verification for the investigation.
Here's the paragraph that's so stirred media quills:
"Interviews with both flight surgeons and astronauts identified some episodes of heavy use of alcohol by astronauts in the immediate preflight period, which has led to flight safety concerns. Alcohol is freely used in crew quarters. Two specific instances were described where astronauts had been so intoxicated prior to flight that flight surgeons and/or fellow astronauts raised concerns to local on-scene leadership regarding flight safety. However, the individuals were still permitted to fly."
It leaves something to be desired, that's for sure. Who were the astronauts? What missions did they fly?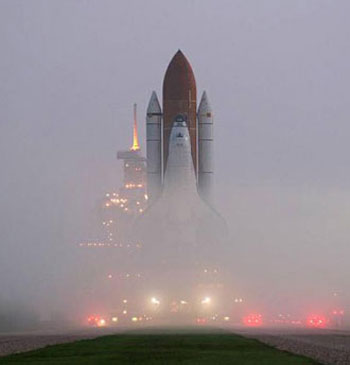 Houston to Margaritaville: All systems go
But before we even get to that can of worms, have the interviews been verified?
We may never know. The space agency's next move will be to study and evaluate the report. This charge will fall in the hands of NASA's senior management and Medical Policy Board. But because the findings are classified as medical, the likelihood the public will get any more details remains low.
The panel said NASA has not established a way to deal with alcohol use by astronauts.
"The medical certification of astronauts for flight duty is not structured to detect such episodes, nor is any medical surveillance program by itself likely to detect them or change the pattern of alcohol use," the panel wrote.
NASA said that in response to the study's recommendations, there will be an interim adoption their T-38 aircraft alcohol policy for future space shuttle flights. The policy prohibits alcohol consumption within the 12 hours prior to flight. Astronauts will neither be under the influence nor the effects of alcohol at the time of launch. Furthermore, NASA will now establish an astronaut code of conduct.
This pretty basic stuff, and quite frankly, it's odd that there wasn't such policy in place beforehand.
Fourteen astronauts were interviewed by the panel. All but one has space flight experience. In addition, five family members and eight flight surgeons were interviewed.
The results of the agency's bad week might get a turn-around on August 7, when NASAs next manned mission is set to blast off from Cape Canaveral. The mission is bound for the International Space Station.
Hopefully, they'll get some proper boozing up there when nobody is looking. In space, nobody can hear you heave. Cheers, space explorers! ®
Sponsored: Practical tips for Office 365 tenant-to-tenant migration