Updated Denon Electronics has dipped its toes into the Blu-ray hardware market, unveiling its first player for the next generation format. However, the manufacturer is still sitting on the fence in the ongoing High Definition Wars.
The DVD-3800BDCI operates on the BD-ROM Profile 1 version 1.1, which becomes mandatory for all players introduced from November and is also known as the Final Standard Profile. The successor to 1.0, version 1.1 adds in a secondary video decoder for picture-in-picture and interactive audio and commentary capability, in addition to other advancements.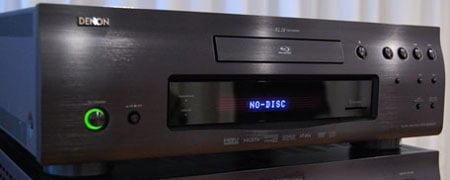 The DVD-3800BDCI doesn't mean Denon will only produce Blu-ray players
The player also uses a 10-bit Silicon Optix Realta video processing chipset, which offers a host of processing advancements including noise reduction and detail enhancement over Hollywood Quality Video. The chip also delivers 1080p HD resolution when connected up to a display via an HDMI cable.
Joe Stinziano at Denon has already be quick to point out that the player doesn't signal an allegiance to Blu-ray, stating simply that the manufacturer's "future plans do not preclude the introduction of high-definition products in other formats".
Unfortunately, the player is so far only scheduled to be released in the US this autumn, where it will retail for around $2,000 (£1,000/€1,230).
Supplemental
Denon has announced that a European model will be available in black or silver this November, but a price is still yet to come.