Researchers at the University of Manchester have discovered that graphene, the world's thinnest material, is capable of detecting the tiniest amounts of toxic gases, such as carbon monoxide and alcohol vapour.
The researchers suggest that the gauzy mesh of carbon atoms could one day be a crucial component in sensors checking for explosives at airports, and for sniffing out carbon monoxide from faulty appliances in the home.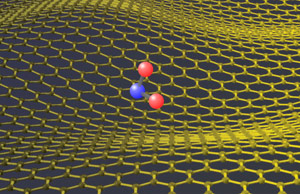 An image of a NO2 gas molecule above the chicken wire
of carbon atoms, courtesy of Manchester University.
The discovery is reported by Dr Kostya Novoselov and Professor Andre Geim of the Manchester Centre for Mesoscience and Nanotechnology in the latest issue of Nature Materials.
The same team discovered graphene - a one atom thick layer of carbon, arranged in a mesh resembling chicken wire - three years ago. It was thought to be chemically inert - almost entirely unreactive. However, these new findings suggest otherwise.
The researchers found that gas molecules get stuck on the chicken wire mesh without disrupting its structure by exchanging electrons. This exchange changes the conductivity of the mesh to a measurable extent, making the material ideally suited for use in sensors.
"This level of sensitivity is typically millions of times higher than for any other gas detector demonstrated before," says Novoselov. "Graphene sensors are as sensitive as sensors can be in principle."
Although more work is needed to find ways of identifying exactly which gas has become ensnared in the graphene mesh, the researchers are convinced the technology to make it into a workable sensor already exists.
"At present you could not sniff out a flammable substance hidden in luggage because an increase in air humidity would give false readings," says Geim.
He argues that all solid-state gas detectors have encountered this problem, and that it can be successfully solved through various detection schemes including filters and analysis of a temperature response.
"We see no reason why the same cannot be done successfully with graphene. This is only the first step on the route to commercial graphene-based sensors but the road ahead is clear," he concludes. ®