This article is more than 1 year old
Logitech keyboard rides the Wave
Touchy feely...
Numb fingers, sore wrists, aching arms and painful fingertips are all just some of the problems that can be caused by our 21st century addiction to the keyboard. But, Logitech has taken these pain-points onboard and, with a little aquatic inspiration, created the Wave keyboard.
It claims the keyboard, which is available in either a corded or cordless version, is a straight keyboard evolution. The design uses a five degree curve across the keyboard's surface that is supposed to open-up users' hands, so that their wrists are not forced to bend across the keyboard.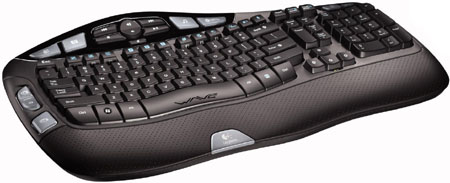 Logitech's Wave keyboard is...um, swell
Logitech, astoundingly, has discovered that fingers vary in length and so also positioned the keys in a wave shape, with a 0.4cm difference between the lowest and highest keys. For example, keys A and Enter are near the top of the wave because they are typically pressed by your pinkies.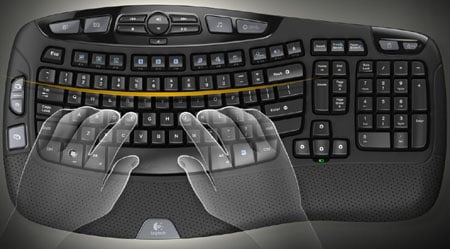 Could the Wave help to combat RSI?
Since the keys are not divided into left and right-hand groups - as on Microsoft's Natural Keyboard Elite - 'adaption time' to the keyboard should prove minimal and a padded wrist rest that follows the keyboard's wave contour will also provide typing support.


Apparently the wave design will open your palms
The keyboard is compatible with both Macs and PCs, but its Vista compatibility means some shortcut keys link to the OS's Flip 3D display function and on-screen sidebar. This also extends as far as a type-speed indicator and error-rate tracker.
Logitech has also created a wave-inspired cordless laser mouse, in an attempt to replicate the Wave keyboard's comfort.
A corded version of the Wave keyboard will be available worldwide from October, priced at $50 (£26/€41), while the cordless version will be sold in combination with the Wave mouse for $90 (£47/€62).