Revo Pico+ DAB radio
Pick up a perfect portable radio partner
---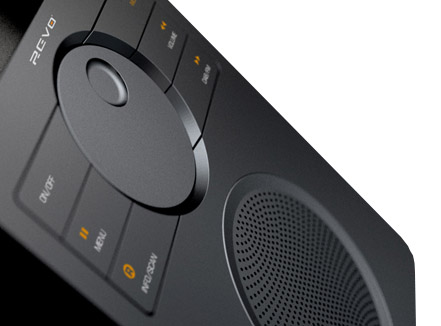 The main dial has a nice notched response
After its initial charge period - the manufacturer recommends an overnight charge when the product is brand new - we tuned into Radio 3. Not to everyone's taste, but a great way to find out if a radio has any subtlety or finesse as the output sweeps between almost silent to huge surges of complex sound.
The Pico+ coped really well for a radio with only a 2in speaker cone and managed to deal with the abrupt changes in volume and found all the edges of all the notes. The volume range of the radio is also good going surprisingly loud for its size, again making it a good outdoor companion or even whilst in the shower. There is also a handy Dynamic Range feature that automatically boosts the output for quieter stations, perfect for fans of talk radio.
Starting the radio up is very straightforward, a quick scan (around 40 seconds) and all the stations available in the area were found. There's also a useful function that allows you to arrange the order that the stations appear in so you can toggle quickly between your favourites. You can also delete from the main list the stations unavailable in your area, which the radio displays with a question mark next to the station name.
In areas where DAB is not an option, FM steps in with the same quality level of performance. The user interface is comfortable and intuitive. The test here is always how many of the functions can the user work out and find, without referring to the manual. Happily here, all the basic functions are easy to locate as are most of the more advanced abilities.
The main dial has a nice notched response that allows the user to move accurately around the menus and has a comfortable indentation, which the thumb slips neatly into so the product does not have to be held with both hands to move between functions. Pause and rewind of 30 minutes is possible, a good amount of time for a product of this size and price.