Revo Pico+ DAB radio
Pick up a perfect portable radio partner
---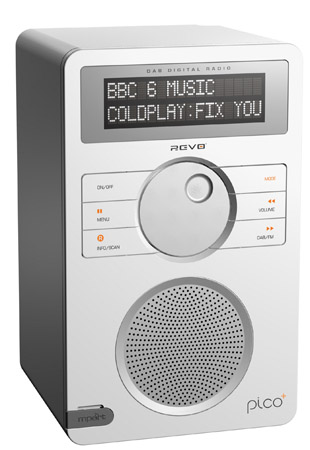 The Revo Pico+ is available in three colours: 'satin black', 'snow white' and 'titanium silver'
Simply hold down the function button and then use the pause, rewind and fast forward buttons to move around inside live broadcasts. A more permanent and longer recording can also be made by using the radio's SD card slot. Toggle to the programme you want and then press the function button again, one more click on the record button and the job is done. The example used in the manual is the Steve Lamaque show, quite why you would want to listen to that once - let alone twice - is beyond us. But the function works really well and gives the radio another dimension of use, as of course the recorded content can be played back on other devices as well.
Recordings made onto the SD card from live radio are in MP2, but the sound does not appear to suffer overly. The SD card also allows the unit to connect to a computer and download existing music files. Connect up the radio, you will need your own USB cable as this appears to be the only accessory that does not come with the product.
We were using a PC, but happily Macs are fully supported. An icon called Pico+ pops up on the computer screen: open the icon, drag the tracks you want into the window - and it is as simple as that. Playback using this method is not as good as the radio performance, the sound loses a little of its reality and bounce, but this is more to do with the characteristics of MP3 than any major fault on the part of the radio.
The M-port on the front of the player allows you to connect any personal music player to the device. Recognition is quick, which is not always the case with similar products. Again the sound is flatter than that delivered by radio playback, but again this is a format question rather than the radio's fault. In fact it is a testament to how good the radio sounds in DAB and FM that when MP3 is played back there is a noticeable difference.
Verdict
Ultimately this is a great little portable DAB that with its tough exterior and impressive level of added features, makes it a genuine contender for one of the best compacts around, whether indoors or outdoors. The Pico+ also has a little brother in the form of a more basic Pico model and a Wi-Fi enabled cousin called the Pico W-Fi.

Revo Pico+ DAB radio
Revo says 'its religion is radio'...the Pico+ may well attract a few converts