Toshiba's burning desire for HD DVD
Toshiba says no way to Blu-ray
---
Toshiba has raised the bar slightly higher in the high definition (HD) format war. The manufacturer has released a notebook under its Qosmio range that is equipped with an HD DVD-R drive, further shunning the rival HD Blu-ray format.
The Qosmio G45-AV680 incorporates an HD DVD-R/DVD optical drive, which the manufacturer claims can burn up to 30GB of data onto a HD DVD disc. The drive is also mirrored by a 17in widescreen display with 1080p capability and an HDMI port for connection to an HDTV display.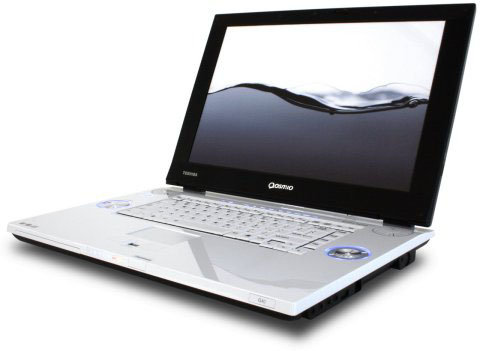 Will Toshiba's Qosmio with HD DVD burner set the market on fire?
Toshiba, which has already pledged to equip its laptop range with HD DVD from 2008, has also included a USB HDTV tuner, enabling users to view and record HD TV from an antenna, satellite set-top box or cable connection.
An HD laptop without some sort of unique or top-of-the-range audio capabilities would be a bit disappointing, so Toshiba has also thrown in four bass speakers, a subwoofer and a 1-bit digital amplifier with Dolby's Home Theatre technology.
A beefy Intel T7300 2GHz Core 2 Duo CPU is built in, along with with 2048MB of DDR2 memory and 320GB of storage – divided up between primary and secondary 160GB drives.
When not wiling away the hours with HD content though, the laptop also provides wireless connectivity over 802.11 a/g/n and has an embedded web cam and microphone.


Connectivity shouldn't be a problem
The laptop also caters for gamers, with Nvidia's GeForce 8600 GT graphics processing unit hidden under the machine's glossy black and white shell.
The Toshiba Qosmio G45-AV680 is available in the USA from August. But all this technology will set you back a pretty penny , or $3,200 ($1,600/€2,110) to be exact, so a fingerprint reader is included to keep the laptop secure. No word is yet available on a European release data or price.