It's a pretty safe bet that anything limited edition will be a greatfully received Christmas gift. So for the storage geek in your life, why not consider equipping them with one of Toshiba's colossal 32GB USB Flash memory drives.
The Toshiba TransMemory U2K drive series, which now also includes 1, 2, 4 and 8GB models, can be used as a source of external memory through Windows Vista ReadyBoot. It's claimed the disk-caching technology can help PCs running the OS to become more responsive by using Flash memory to perform random disk reads at up to 100 times faster than similar reads from hard drives.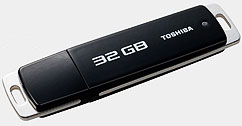 The mammoth 32GB TransMemory USB drive from Toshiba
The 32GB model measures 8 x 2 x 0.8cm and weighs around 12g, while the four smaller capacity models measure 6 x 1 x 0.8cm and 8.5g respectively. All five capacity models are compatible with USB 1.0/2.0.
A downloadable password lock system, provided as standard on all models, should help to keep undesirable data thieves out. But, for an unknown reason, only the 32GB model fails to include the mittens-tied-to-your-jacket-style cap cord provided on the smaller capacity models.
The 1, 2, 4 and 8GB capacity models will be available in October, with the 32GB model available in December. Prices are yet to be announced.