This article is more than 1 year old
Intel revolted by its own 'insensitive and insulting' ad
Racist inside?
Intel apologized this week for a print advertisement circulating around blog-land that some claim is racist.
The ad depicts a white man in casual office attire, arms folded and grinning triumphantly between two row of cubicles. The fella is flanked on each side by three spandex-clad black men crouched in a sprinter's starting position. The advertisement is captioned, "multiply computing performance and maximize the power of your employees."
While the white man's smug jubilation is apparently derived from choosing the Intel Core 2 Duo processor, there are some pretty sinister undertones in the advertisement. It's not difficult to see a white overlord standing over subservient black men who are bowing at his feet.
See for yourself: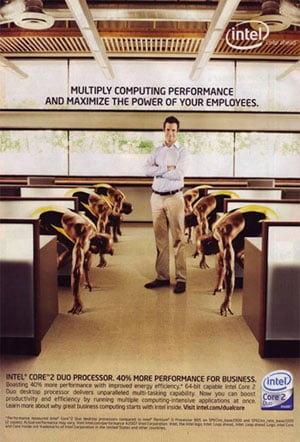 "Unfortunately, our execution did not deliver our intended message and in fact proved to be insensitive and insulting," Intel veep Nancy Bhagat wrote on her blog.
The advertisement was published in Europe about two months ago, but was pulled shortly afterwards. Somehow it recently slipped by again and was published in a Dell catalog.
Here's the head-scratcher: The ad obviously would have passed through several hands before being ready for publication in the first place. Either the folks at Intel are such wide-eyed innocents that nobody noticed how the ad could be perceived or they are in fact racists and love the idea, or everyone involved was asleep at the wheel.
The advertisement was first spotted by the fine folks at Gizmodo. ®
Bootnote
On a related note, we couldn't help but notice the Wall Street Journal, in its write up about the ad, identified the runners as African-American men. Clearly, they are insensitive to the fact that not all black men live in the US.
We would venture to say the publication's execution did not deliver their intended message and in fact proved to be insensitive and insulting.