The US Navy has finally chosen a builder for its new robot carrier plane demonstrator, awarding a $635m contract to Northrop Grumman.
Northrop, partnered with Lockheed, is expected to develop its existing X-47 drone for this purpose. This is an almost 20 tonne, 60-foot-wingspan stealth jet which will offer 3,500 nautical miles of range without inflight refuelling: double that of normal carrier aircraft.
The current Navy programme doesn't call for weapons to be carried, being intended merely to demonstrate that unmanned planes can operate from carriers, but the X-47 could carry ordnance with very little effort should the Navy ask.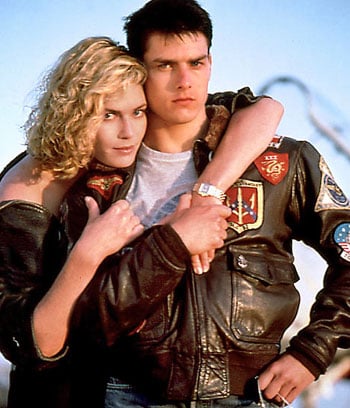 Take my job away... worrying days for navy pilots and their fans
Will the admirals ask, though? The USN is first and foremost a carrier navy, doubly so in these post-Cold-War days when an aircraft carrier is often the only relevant ship in a fleet, unless you want to get into cruise missiles. But armed forces are actually organisations of people, not technology, and the US Navy carrier culture is driven by the heroic - almost legendary - status of naval pilots in America.
Maverick would hardly have taken Kelly McGillis' breath away in Top Gun if his job had been programming flying robots. Richard Gere was supposed to be lifting Debra Winger up where she belonged in Officer and a Gentleman, not offering her a life on a tech campus. George Bush famously chose to pose for the media in a flightsuit on a carrier deck, not with a shirt pocket full of pens in the Las Vegas facility where the Predator drone pilots work.
The thing that makes carrier pilots special among their flying brethren - the reason why one hears it said, navy wings are gold and air force wings are lead - isn't air-to-air combat. That's probably a matter nowadays of press-button long-range missiles on those very rare occasions it occurs. You don't get much kudos, either, from the unglamorous business of airfreighting automated precision weapons to ground targets which can't answer back - "tank-plinking" as it was disparagingly known in the battles of 1991 and 2003.
Carrier pilots are special because they do arrested deck landings, one of the most difficult and dangerous aviation feats and almost the only one yet to be automated. A US navy pilot's most important statistic is how many arrested landings he has done at sea - how many "traps", with night-time and bad weather traps being a particular test of piloting mettle. But, to be honest, automating deck landing is only a matter of time and money. The money's now appeared; and this looks like the time.
As aviation analyst Bill Sweetman put it on the Ares blog at Aviation Week a little while ago:
"[Carrier drone] technology makes a night trap about as heroic as reprogramming the TiVo, and the [contract] winner will have the unenviable job of selling that fact to the Top Guns."
Will US admirals whose sense of self-worth is largely rooted around their trap numbers really take this programme beyond the demonstrator stage? US airforce generals who count their manhood in flight hours have conspicuously failed to do so with an equivalent land-based project. It took the CIA to jumpstart the Predator/Reaper flying kill-bot programme, by using a drone to blow away an al-Qaeda bigwig in 2002.
Interesting times, these, for pilots of every sort. ®