Sealand seeks to cash in on online casino bonanza
Fictitious nation to thumb nose at Cheney administration
It could be an episode of South Park, or a Bunuel conceit were he alive: a non-existent nation has pledged to open an online casino open to Americans on a formerly abandoned military platform in the North Sea.
The Cheney administration can now confront that rarity, a government more surreal than its own: namely, that of the fictitious micronation, Sealand.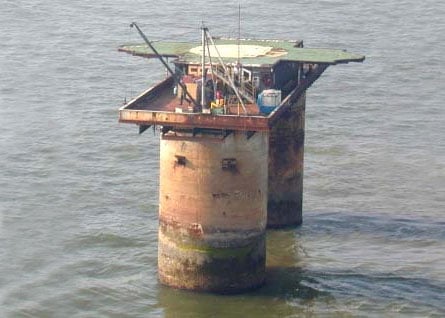 The North Sea micronation, Sealand.
Sealandcasino.com aims to open for business on 2 September, the 40th anniversary of the establishment of this legal void.
The pronouncement is sure to raise the hackles of the United States Justice Department, which has been on a veritable crusade against the online gambling industry for the last couple of years. Just how Sealand plans to outflank American domination of the international banking system is unclear, but Sealand is, if nothing else, a sovereign nothingness with an outlaw history.
Major Paddy Roy Bates, pirate radio maverick, occupied the once abandoned sea fort, then in international waters, back in 1967. Emboldened by a British court case and a couple of minor international confrontations, the unrecognised pseudo-state has repeatedly tested the boundaries of international sovereignty, even printing stamps and coining currency. He subsequently crowned himself prince of the desolate, vintage Mad Max platform.
Sealand made headlines a few months ago as a potential home for MP3 fugitive Pirate Bay, after Sweden decided it had had enough of that outfit. That fell through, but Sealand returned to the news in May when rumors, which later proved unfounded, circulated that British hacker Gary McKinnon, wanted by American authorities for hacking into DOD and NASA servers, had been granted asylum there. Maybe he turned them down - Alcatraz looks more inviting based on these videos.
The Bates family, under Roy of Sealand as Major Bates is now known, is currently trying to sell the proto-principality off to the highest bidder. Eight figure offers only, please.
The casino is offering to match 100 per cent of all first deposits as an introductory promotion. You can pick up a royal title while you're at it. ®
Burke Hansen, atorney at large, heads a San Francisco law office