NASA's Phoenix mission lifted off successfully from Cape Canaveral this weekend, beginning its nine month journey through space to the red planet.
The probe, which will dig into the Martian surface to probe for signs of water, is expected to reach its destination in May or June next year.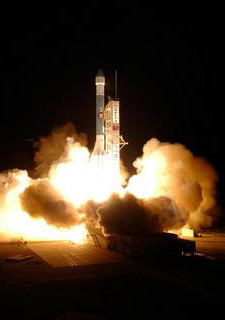 NASA's Phoenix spacecraft begins its journey
to Mars. Credit: NASA
The Phoenix spacecraft began its journey to Mars aboard a three-stage Delta II 7925 rocket (more pictures of the launch are on NASA's site here). The rocket powered the craft into orbit, and sent it on its 679 million kilometre journey.
According to the UK's Science and Technology Facilities Council, the spacecraft looked to be in good shape after separation from the third stage of the vehicle.
When Phoenix lands, its robotic arm will dig through the top soil layer to the water ice below. Samples of both the top soil and the ice will be brought back aboard for analysis.
Silicon substrates produced at Imperial College London will be used to hold the soil samples and to help collect the highest resolution images ever of the soil on an alien world. Researchers at the University of Bristol are also involved in the project.
Bristol's Dr David Catling, who will be studying the atmosphere of Mars and its interaction with the surface, said it was a great relief that the launch had gone well, and the mission is now on its way. "Of course, this is only the start with a busy period of preparation ahead for the instrument teams in readiness for touch down next year," he added.
Once the craft arrives, it will only have three months to get stuck into its work before the dark of Martian winter arrives, forcing the lander into hibernation. ®