Apple unwraps trio of aluminium iMacs
Good news for Apple fans?
---
Apple ended weeks of speculation yesterday by finally taking the wraps off three new iMac models. Steve Jobs took to the stage at Apple's Cupertino HQ to announce the immediate availability of two 20in models, and a 24in iMac.
All three models come in shiny aluminium cases. The 20in iMac in available with either a 2.0 or 2.4GHz Intel Core 2 Duo CPU. The 24in iMac also features the 2.4GHz chip. All three have 1GB of DDR2 memory, clocked at 667MHz, that can be expanded up to a meatier 4GB. The 2.0GHz model features an ATI Radeon HD 2400 XT graphics card, with 128MB of GDDR3 memory, while the 2.4GHz iMac machines have an ATI Radeon HD 2600 Pro graphics card with 256MB of GDDR3 memory.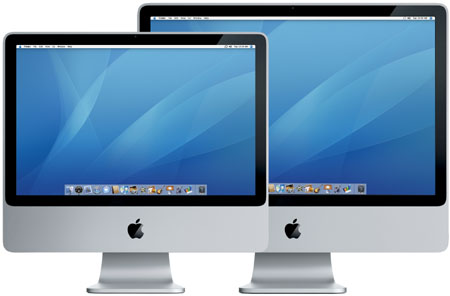 The new 20in and 24in iMac models
All three feature Bluetooth 2.0+EDR and AirPort Extreme wireless 802.11n. The 2.0GHz CPU model includes a 250GB hard drive, while the 2.4GHz 20in and 24in models carry 320GB capacity drives.
All three include slot-load disc drives, a built-in video camera and a much-anticipated new thinner Apple keyboard.
All three iMacs have widescreen TFT LCD displays, although the 24in model offers a 1920 x 1200 pixel resolution and 178° horizontal or vertical viewing angle. Apple's two 20in models have a 1680 x 1050 resolution and a 160° viewing angle.
If you're looking for ways to super-size one of the three iMacs though, take some comfort in a little blurb at the bottom of Apple's release that states customers will be able to select build-to-order models. A 2.8GHz Intel Core 2 Extreme CPU and up to 1TB hard drive is available for the 24in model, while 750GB or 500GB hard drives are available for the 2.4 and 2.0GHz 20in iMacs respectively.
All three models are available through Apple's online store, and through its retail stores and resellers. The 2.0 and 2.4GHz 20in iMacs retail for £800 and £950 respectively. The 24in iMac will retail for £1,150.