Review Lenovo supplies its X series ThinkPad as a regular laptop and also as a reversible Tablet in both X60 and X61 variants, so that's four basic models, but there are so many options and variants that it's almost impossible to list them in a tidy way - but we'll give it our best shot.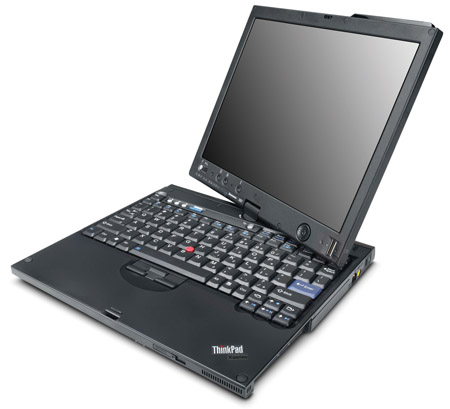 ThinkPad X61: sports a 12.1in MultiView screen
Every X61 uses the Intel 965G Express chipset with ICH8-M and you then choose your processor speed. Our review sample uses the 1.6GHz Core 2 Duo L7500 processor, or you can go for the 1.4GHz L7300. It runs Windows Vista Business without the Aero interface, but you can also choose from Vista Ultimate, Vista Home Premium, and XP Tablet Edition. You'll recall that Vista includes Tablet and Media Centre features.
We got a 12.1in MultiView screen with 1,024 x 768 resolution, rather than the brighter 12.1in Super-Wide Angle screen with the same resolution, or a widescreen 12.1in screen that displays 1,400 x 1,050 pixels.
The hard drive is a 120GB 5,400rpm model, but you can also choose from 60GB, 80GB, and 160GB drives with the same spin speed, or 60GB and 100GB drives at the faster 7,200rpm speed. Lenovo offers up to 4GB of PC2-5300 memory, which is handy if you go down the 64-bit OS route, but we got a relatively miserly 1GB of RAM.
Graphics use the Intel GMA X3100 core, which is part of the 965G chipset where the earlier X60 model used an ATi X1400 chip in conjunction with the 945 chipset.
Even the connectivity throws up choices, so all models have a V92 modem and Intel Gigabit LAN as well as Bluetooth, but there are three different Intel wireless modules on offer. There's the older 3945ABG, which will please system administrators who want to maintain a level playing field, or the 4965AG that we got, while the more courageous types may choose the 4965AGN with its support for 802.11n.
Sponsored: Webcast: Ransomware has gone nuclear