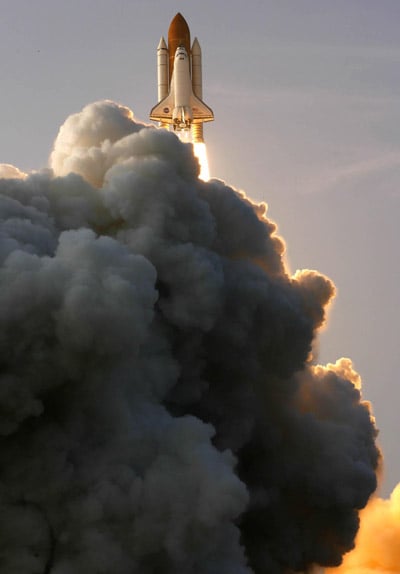 Endeavour lifts off. Credit: NASA
NASA has described the launch of the Space Shuttle Endeavour as "flawless". The shuttle blasted off from Kennedy Space Centre in Florida late last night (UK time), starting its 14 day mission to the International Space Station without a hitch.
The space agency's top dog Michael Griffin enthused: "A launch operation doesn't get any better than this, it can't."
This is the first time Endeavour has flown since 2002, and is the second of four missions to the ISS NASA hopes to run this year. The shuttle has been totally overhauled, and NASA managers say it is practically a new spacecraft.
Endeavour is carrying the ISS's third starboard truss segment, and teacher Barbara Morgan. Morgan had been the reserve for Christa McAuliffe, who died with the rest of the crew when the shuttle Challenger exploded on launching back in 1986.
Morgan, who will be operating the shuttle's robotic arm, said she was realising a lifetime's dream of going to space. She added that although she had trained as an astronaut, she would be flying with the heart and soul of a teacher.
Presumably, this means detention for any unruly astronaut behaviour and stern notes home to Mum if the mission is not handed in on time.
The new ISS segment, known as S5, is relatively small: it is roughly the size of a small car and "weighs-in" (Earth lingo, we know) at 1.58 tonnes. It will provide a clearance between the solar arrays on the truss structure, NASA says.
The shuttle is also carrying 2.25 tonnes of cargo to resupply the ISS. It will take home a similar quantity of junk.
More of NASA's shots of the launch are here. ®