This article is more than 1 year old
eBay seller nabs $1500 for Jesus-like garage stain
American icon
An American family just sold the stain on the floor of their garage for more than $1500. This may or may not be a sign from God.
According to the The Associated Press, the stain looks like Jesus Christ. To us, it looks like a stain.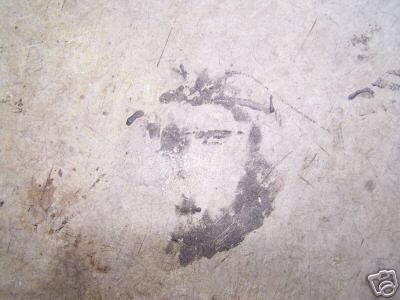 Smudge on a driveway in Virginia
After noticing some driveway sealant on the floor of their home garage, the Forest, Virginia family snapped a photo and chucked it onto the world's most popular auction site. A week later, another Virgina resident paid $1,525.69 for the sealant smudge - and the hunk of concrete beneath it.
"I really never thought I'd get any [money], to be honest," said seller Deb Serio, a high school teacher who's received hundreds of messages about the smudge from around the world. "It's fun to see what people say and think about it."
What does she think about it? She thinks it's a smudge, not a miracle. "There are some people who need this kind of thing to sort of start them on their faith journey. I don't," said the practicing Lutheran. "That's why I don't mind parting with it."
The Reg can safely say that America is a country driven by two things: cash and Christianity. ®