A group of toffs, apparently from Scotland's private Glenalmond College, have ruffled feathers with a wizard YouTube "chav-hunting" vid which showed them purging the British countryside of the Burberry-capped underclass with rod, hound, and gun.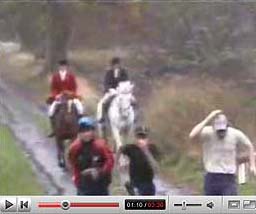 The offending flick - entitled Class Wars - featured the chaps variously fishing a chav from a river then beating him with a stick, hunting a pack of fleeing chavs (see pic) and dispatching chavs with a shotgun.
Pretty harmless nonsense you might think, but local Scottish Nationalist Party MSP Roseanna Cunningham decried to the Sunday Times: "I suppose this video could be billed as the revenge of Monty Python's upper-class twits. Doubtless it is intended as humour and irony, but it comes across as brash, crass, and arrogant.
"Is that really what their parents are paying for when they send their privileged offspring to an exclusive school like Glenalmond?"
Glenalmond College has refused to comment on the outrage, and the vid was earlier today pulled from YouTube. Reports that pupils are planning Class Wars II - which will see them sweeping the UK on horseback in search of swan-roasting Albanian illegals and shoplifting single mothers - remain unconfirmed. ®