Trevor Baylis cranks multimedia up a notch
No we're not winding you up
Sitting down at the beginning of a long train journey to discover that you've forgotten to charge up your media player will soon be a thing of the past. Inventor Trevor Baylis back and this time he has turned his wind-up hand to the portable multimedia device.
The Eco Media Player uses an internal Lithium Ion battery which will give up to 40 minutes of audio play time from a minute's worth of winding. It can also be charged via a USB 2.0 port to take advantage of the battery's maximum 20 hours playtime. It can also charge mobile phones through the included connector.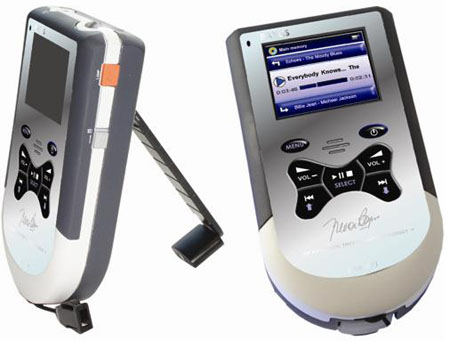 The Eco Media Player
It has a 1.8in colour screen, capable of displaying 0.26m pixels, which can be used for viewing jpeg, bmp and gif images or for watching videos in asv, although WMV and AVI are supported through a conversion facility.
Trevor has built in a stereo 3.5mm headphone jack, though if you fancy annoying people on the train or plane it also includes a mono loudspeaker. Internal stereo line-in digital recording is also designed to allow content from external analogue devices, such as a tape deck, to be converted into MP3 and stored onto the player.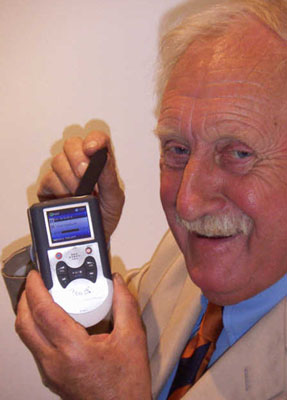 Trevor Baylis gets cranking
Short voice memos can be recorded through a built in microphone and radio frequencies selected between 87.5MHz and 108MHz.
The Eco Media Player is available from the end of August for £170 (€210).