Being pelted by speakers placed at almost every angle has long been, acoustically speaking, the tried and tested way to gain surround sound. Now, US-based Polk Audio has created a single-bar speaker that it pledges will deliver a 5.1 surround sound experience from one location.


The SurroundBar 50 raises the bar
The SurroundBar 50, which is an update of its original SurroundBar, is 128cm long and designed to sit underneath or above a 50in-odd TV. It uses the manufacturer's own technology, which it describes as a mixture of signal processing and acoustical geometry, to deliver surround sound without the need for rear-mounted speakers.
How does it work? The SurroundBar contains ten speakers: two for the center and, at either end, four each for the right, left and 'rear' sources. Polk's approach, called SDA Surround, generates a soundwave that essentially fools the human ear and brain into thinking the sound is coming from all around the room.
The manufacturer said it has improved the SoundBar's bass performance, though that doesn't stop it offering an optional sub-woofer, which it claims may be suitable for those wanting even bassier bass or just for folk with a really big room. And if you have a 50in TV, we'd guess you already have a fairly big room.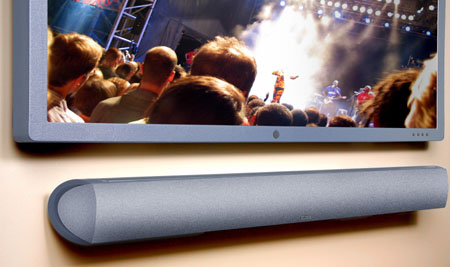 How it could look under your whopping display
The SurroundBar 50 will be available from October for around $1100. No European release date or pricing has yet been given.