This article is more than 1 year old
God appears in eggplant slice
Woman lobs Him onto eBay
It looks like American religious artifacts are becoming big business on eBay.
Not to be outdone by Deb Serio, a Virginia high school teacher who recently nabbed over $1500 for a garage floor stain she said looked like Jesus, Pennsylvania's Felicia Teske is offering eBay buyers an eggplant slice that may bear the word "God." Starting price: $1,000. Plus $20 for shipping.
Teske recently purchased her eggplant (aubergine, for you Brits) at a roadside produce stand, according to a local Pennsylvania news channel, and on Sunday evening, as she sliced it up in her kitchen, she saw the word "God" appear in the seeds of one of the slices: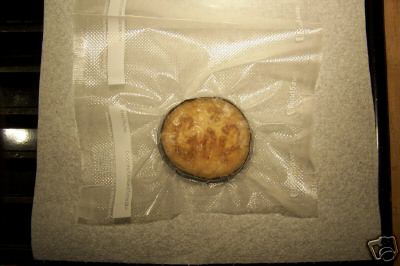 An eggplant slice in Pennsylvania
Though this El Reg hack is no expert when it comes to eggplants, he's quite sure the seeds spell "gid" - a brain disease caused by tapeworm eggs. Or an acronym for Gender Identity Disorder
Our attempts to contact Teske went unanswered, but according to reports, she's adamant she saw God. The slice was comforting, she said, because some of her family members had recently passed away. She put it aside and promptly fried up the rest of her eggplant for Sunday dinner. When the local news showed up, she and her husband said the meal was divine.
Teske assures eBayers that the eggplant slice has been "preserved in a food-saver plastic bag" and "frozen in a safe place." So far, no one has actually bid on the vegetable, but there may be interest from the proud owner of a Virginia garage stain. ®