Internet world superpower Google has denied conducting an Oz-blurring black op with its client state the US of A, which appears to have thrown out of focus swathes of Sydney ahead of the forthcoming Asia-Pacific Economic Cooperation (APEC) summit.
For those of you not up to speed on APEC, the Lucky Country will from 2 September host 21 world leaders including George Bush, necessitating the mobilisation of 5,000 police and army personnel who have been assigned to "lock down the city", as the Sydney Morning Herald puts it.
Accordingly, the Sydney Opera House, Convention Centre, and the NSW Government House will be off-limits to law-abiding citizens and al-Qaeda alike. And just in case the Friends of Ozzie decide to rain airborne death on the city's central business district, it appears they won't be using Google Earth to do it: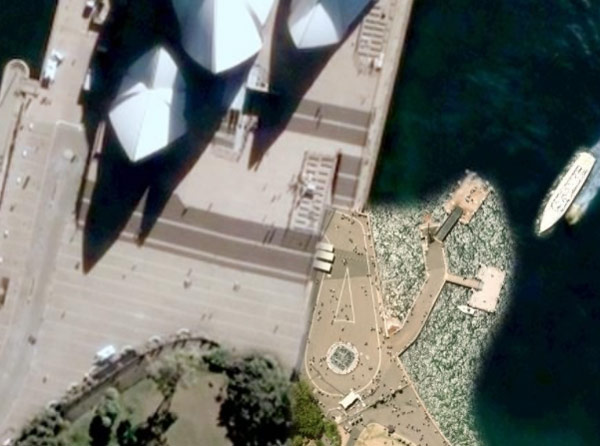 Yup, whereas before the Opera House could be seen in all its glory, the sat images have been replaced with terror-busting lo-res snaps evidently designed to thwart al-Qaeda's Down Under comedy kamikaze cadres.
Google has, naturally, denied even the faintest sound of black helicopters. The company's Australia spokesman Rob Shilkin insisted: "This has absolutely nothing whatsoever to do with APEC. We're re-sourcing our imagery for parts of Sydney as a result of a commercial issue with one of our suppliers, so some of the highest-res images have been temporarily replaced."
Well, he would say that, wouldn't he? ®