The US special forces are now using a "hand-launched" flying robot propelled by stealthy "hush drive" in the mountains of Afghanistan, according to recent revelations.
Flight International reported yesterday that a team from the secretive, bleeding-edge Advanced Development Programmes unit within aerospace colossus Lockheed Martin (better known as the "Skunkworks") built the new air-droid.
Apparently, the designers had previously been responsible for the Desert Hawk close-range lightweight drone, in use by British troops in Afghanistan for over a year. Brit Desert Hawks also deployed to Iraq two months ago to supplement the heavy, ageing, widely-rubbished British-made Phoenix, which is "unable to fly a large amount of the time because of the hot environment", among other problems.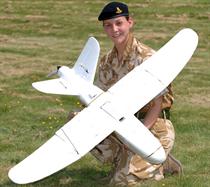 Desert Hawk. Not just for boys.
Desert Hawks are shot into the air using a bungee cord catapult, fly for up to an hour along preset GPS routes on quiet electric propulsion, and skid-land on their bellies.
They were originally conceived as a perimeter surveillance system for defending secure bases against intruders or mortar and rocket attacks. However, British operators from the Royal Artillery - as opposed to perhaps less gritty airforce ground defence customers - use their Desert Hawks in support of small forward units "from the same trench as troops in contact". This kind of use may have led to US special-ops issuing a requirement to Lockheed in 2006.
Now, according to Flight, the Skunkworks team have produced a new version. The new "Stalker" drone can operate at 15,000-foot altitudes (though this is more for mountain work - it's unlikely to spend much time so far above ground) and has two hour endurance. It too is electrically propelled, perhaps even more quietly than the Desert Hawk - reportedly the Skunks call it "hush drive".
Stalker can carry a variety of slot-in sensor modules, "each the size of a clenched adult male fist" (human, we're assuming). These include daylight cam, low-light cam and infrared options, plus laser-pointer capability to finger targets for an enormous bomb or missile of some kind.
Intriguingly, the sensor mounting can apparently be removed entirely and replaced with a kind of mini bomb-bay droppable-payload system "for rapid air resupply or delivery missions". Given that the fly-bot's maximum takeoff weight is only 6kg, we're talking about quite small loads here.
What two kilo packages might the US special forces be seeking to deliver from their portable robot aeroplanes, one wonders? Radio relays to improve comms in the Afghan mountains? Remote observation units? Landmines or demolition charges? Leaflets?
The Flight article is here. ®