NFL enlists Christian soldiers in anti-gambling fight
God, football and the point spread
The behind-the-scenes putsch that forced the Unlawful Internet Gambling Enforcement Act (UIGEA) through a skeptical Congress last year saw a little sunshine this week. Witness the news that the National Football League has teamed up with James Dobson's Focus on the Family and other right-wing Christians to head off efforts to liberalize and regulate the online gambling industry.
The NFL has brought in some big guns to make sure that Congressman Barney Frank's attempt to repeal the law and regulate the troublesome industry never gets out of committee, according to the Financial Times. Former Senate Majority leader Bill Frist attached the controversial UIGEA in the middle of the night to an unrelated port security bill, and one of his top advisors, Bill Wichterman, is now lobbying on behalf of the NFL to uphold the UIGEA.
As the Finanancial Times noted, an email obtained from Wichterman "encouraged conservative groups to co-sign a letter to Congress that ostensibly was written by Focus on the Family. 'The threat posed by the Frank legislation is very real, and we must actively work against it,' Wichterman wrote."
The letter encourages anti-gambling Christians to take up the fight against Frank's legislation.
The Christian Coalition, among others, signed the letter, which urges members of Congress to protect the integrity - whatever that means - of the UIGEA, and warned lawmakers to be on the watch for "misinformation campaigns [by] foreign gambling interests".
Whether "foreign gambling interests" refers to Antigua and the WTO or not, the NFL clearly does not believe that the opt-out provisions for sports organizations in Frank's legislation are sufficient to protect the integrity of the game. One would think that the huge black market for sports betting in the United States would be even more of a threat, but for those morally opposed to gambling, practical social policy is irrelevant. Gambling bad. Jesus good.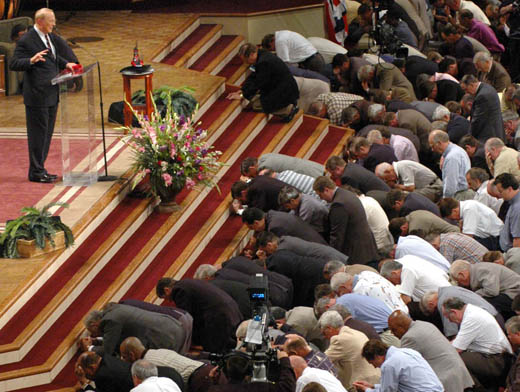 Lord, let the Cowboys cover
Super Bowl Sunday is the biggest gambling day of the year, with billions wagered on the event annually, and gambling point spreads are routinely tossed around on pre-game events. The NFL also directly participates in fantasy football leagues, which were specifically exempted by the UIGEA. If anything, sports wagering seems to be a real boost to the league's popularity.
So what's the big deal? Leagues in the UK, where legalized gambling on sporting events is prevalent, seem to do just fine, and in the public mind, doping seems to be a bigger concern - at least as far as integrity goes. There is no perfect system, as recent NBA developments make clear, but regulation if anything seems preferable - after all, NBA referee Tim Donaghy got into trouble with underground bookies. In Las Vegas, where everything is legal and closely scrutinized, point shaving is nearly impossible.
"Whispers would have happened on the street, and we would have heard something," Jay Kornegay, executive director of the sports book at the Las Vegas Hilton, said to ESPN, when asked about the scandal last month. "Any type of suspicious or unusual movements, you usually hear in the industry. We're so regulated and policed, any kind of suspicion would be discussed." ®
Burke Hansen, attorney at large, heads a San Francisco law office