This article is more than 1 year old
Tesla electric supercar may be delayed
'Not yet fully within our grasp', says ex-CEO
Tesla Motors, the widely-lauded California company behind the Roadster high-performance electric car, may have run into problems.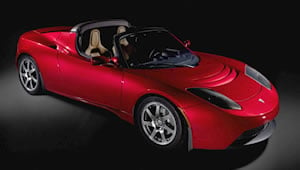 The Roadster - possible teething troubles?
The Tesla Roadster is planned to be one of the world's first true all-electric cars for consumer users, as opposed to specialist machinery such as milk floats or forklifts.
The $100,000 Roadster is powered by a Li-ion battery pack, delivering supercar acceleration, distinctly ordinary top speed, and normal range. Its main snag - assuming it achieves the projected specs - is that it will take hours to charge up again once the battery runs flat, which will seriously limit its usability.
But the Roadster itself emits no pollution whatsoever into the atmosphere. If charged up using cleanly-generated electricity (somehow) it is completely green, and yet fun to drive and sexy to look at. This has led to a large number of pre-production reservations being placed with Tesla. Wannabe Roadster-drivers include the Governator, Arnold Schwarzenegger, and the founders of Google.
The first cars are supposed to be delivered this autumn. However, car-crazy news site Jalopnik yesterday posted an email it had obtained, sent out by Tesla founder Martin Eberhard to the various wealthy would-be owners who have stumped up large sums for a place on the delivery list.
"Naturally, the question on many Tesla customers' minds is 'When will I get my car?'" writes Eberhard.
"The short answer is: We are still planning to start production of the Roadster by the end of next month... We have a good chance of meeting this goal, but to be fully transparent, I want you to know that while it is within our reach, it is not yet fully within our grasp."
Not actually a very short answer.
Eberhard goes on to say that crash testing and durability testing are the only remaining things to be accomplished. He is "confident" about the crash testing, having carried it out on previous prototypes.
He then expounds briefly on durability testing, which "includes both the mechanical components of the Roadster and also the software that controls everything from door latches to battery cooling... we will soon enter the next phase of durability testing that incorporates all previous fixes. The results of this testing are critical to the schedule".
This could lead one to speculate that there are issues with the lifespan or reliability of the battery pack, which Eberhard hopes - but isn't sure - his team has fixed. That was always going to be one of the main hurdles Tesla had to jump.
He also reveals that he is no longer CEO of Tesla, the company which he has personally grown "from two people in a tiny office in Menlo Park to 250 people spread around the world".
Eberhard will now become "president of technology". In this role he will "focus on the final details of the Roadster and on advancing Tesla's leadership in our core technology. I will also be able to spend more time with you, our customers".
The Tesla board has yet to find anyone suitable to become the new CEO, but Michael Marks, former Flextronic chief, has agreed to act in the interim. Marks is down to get one of the first Roadsters, and is a Tesla investor.
The full text is at Jalopnik, here. ®