The world's 'first' portable media player (PMP) with DAB digital radio will hit UK shelves later this month. The Cowon iAudio D2 portable media player (PMP) player is also set to feature a meaty multimedia line-up inside its slim-line casing.
The PMP supports full UK band three digital DAB, alongside an FM radio with automatic region tuning. It features a 2.5in touch-screen 320 x 240 pixel TFT LCD display, which is operated by a stylus that also doubles-up as a kickstand to support the player if you want to watch it, say, on a table, instead of holding it in your hands.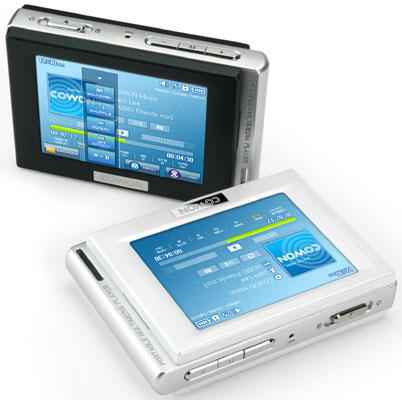 The Cowon iAudio D2
A built-in memory card slot supports SD, MMC, MMC-plus format cards. The PMP itself is compatible with a host of audio formats, including MP3, WMA and OGG, and for video XVID and MP4 playback formats.
Sound quality promises to be fairly impressive and can be adjusted according to content, with several pre-defined settings, including rock, jazz and pop, and an MP3 enhancement mode that claims to compensate for the lost parts of MP3 encoded sound. A 3D surround mode also creates, well, three dimensional audio.
The Cowon iAudio D2 potable media player will be available here towards the end of this month, priced at £140 (€180) for the 2GB model and £170 (€205) for the 4GB model.