Compact Disc: 25 years old today
First commercial disc pressed on 17 August 1982
The development of the CD stretches back to 1979 when Sony and Philips established an engineering team to create a disc capable of stopring music in digital form. According to Philips, the original design spec called for a 11.5cm-diameter disc capable of holding an hour's music, but this was later extended to 12cm and 74m minutes - sufficient to accomodate the whole of Beethoven's 9th Symphony. Some writers claim this was driven by Sony co-founder Akio Morita, in order to ensure his favourite symphony could be stored on a single disc.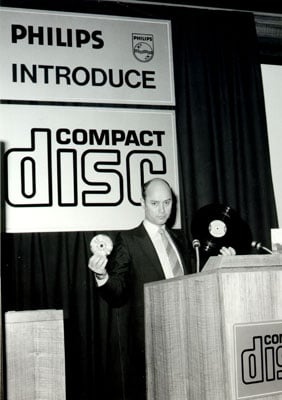 Philips' Joop Sinjou introduces the CD in 1979
In June 1980, the development specification was frozen and enshrined in what the partners called the Red Book. Later, the arrival of the Yellow Book would see the publication of the CD-Rom specification for computer use.
It might be assumed that the CD's digital encoding is sufficient to ensure perfect fidelity. Not so. Poor laser focusing, discs that wobble as they spin introduce noise into the signal, and the inevitable dust and fingerprints that accumulate on the surface, forcing the format's developers to come up with some clever error-correction technology to compensate. Indeed, listen to a disc without the special encoding, and there's almost as much hiss as music, and arguably worse than the sound produced by cassette tape.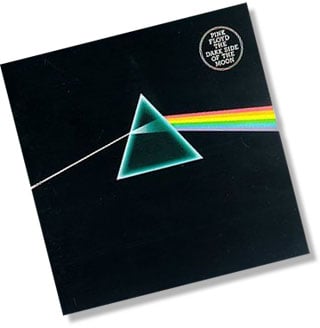 Pink Floyd's Dark Side of the Moon: own, dedicated CD plant?
To get around the problem, CD uses a technique called eight-fourteen modulation (EFM) developed by Dutch digital recording boffin Kornelis Antonie Schouhamer Immink. The data stream is broken into blocks, each eight bits long - and half of the 16 bits used to encode the sample of the soundwave taken 44,100 times a second. The eight-bit block is matched against a list of possible bit patterns and a 14-bit code read off the table, hence eight-fourteen.