This article is more than 1 year old
Compact Disc: 25 years old today
First commercial disc pressed on 17 August 1982
The 14-bit codes are cleverly crafted to ensure any two binary ones in the code is separated by 2-10 binary zeros. Three further bits are used to separate the 14-bit codes on the disc. While this approach may be less efficient from a storage space perspective - 17 pits on the disc's data surface are used to encode half that number of bits - it makes it much easier for the optical head to read the data correctly.
CD encoding also employs Cross-Interleaved Reed-Solomon Coding (CIRC), which adds an extra, parity byte for every three bytes of data. The upshot: the player's electronics can easily and efficiently 'guess' what data masked by errors should have been, eliminating clicks and pops.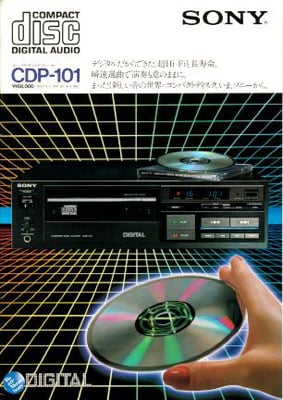 Sony's CDP-101: introducing...
More advanced versions of this technique would later be used in DVD and Sony's Super Audio CD (SACD) format.
The SACD has yet to win the broad appeal enjoyed by the CD, which proved a major driver for the music industry as consumers dashed to replace old or scratched vinyl LPs and hissy cassettes with shiny new compact discs. By the late 1990s, however, in part due to the growing popularity of computer games, and first sell-through videotapes and later DVDs, but also the advent of both the MP3 music format and peer-to-peer file sharing networks, CD sales began their inevitable decline.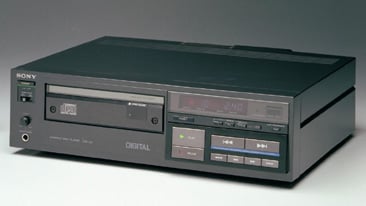 ...the world's first CD player
CD remains the dominant format for legitimately purchased recorded music - some 200bn have been sold in the past 25 years, Philips reckons - but it's lead is being eaten into by downloads. Fans are finding they'd rather buy individual tracks than albums of songs. This week, the UK recording industry's Annual Survey forecast that Apple's iTunes store will outsell other music suppliers within two years - on other words, downloads will have become more popular than the CD.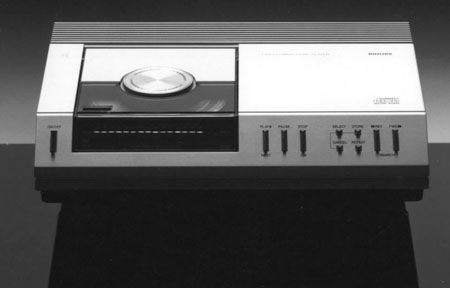 Philips' CD100: VHS styling
The Compact Disc may not strictly speaking be a forgotten technology, but at that rate it soon will be.
More Forgotten Tech...
• 15 years ago: the first mass-produced GSM phone
• From 1981: the World's first UMPC
• The IBM ThinkPad: 15 years old today
• Apple's first handheld: the Newton MessagePad
• Atari's Portfolio: the world's first palmtop
• 'Timna' - Intel's first system-on-a-chip
• BeOS: the Mac OS X might-have-been
• Sony's first Mylo