This article is more than 1 year old
Thinking outside the Opera box
Von Tetzchner sings to El Reg
Interview Some of Opera's long-term bets are beginning to pay off. The Norwegian web pioneer has invested in TV and mobile for years, and now Nintendo's hit Wii console has put Opera into more than eight million living rooms. Mini has made the web usable on millions more phones. And the most recent major release of FireFox has been met with pushback on its performance, usability, and security.
This week we caught up with Opera founder and CEO Jon von Tetzchner to discuss this, and some of the thornier challenges facing the company.
So we started with a biggie - was the web leaving Opera behind?
Isn't it just getting harder to keep up with the web, especially on mobile?
Software engineers will always find ways to make a device seem slow. I'm a software engineer - I know I did. With Opera Mini there are some things that may not work, but most things work very quickly. We did visual comparisons of Opera Mini in the labs, using the same websites Steve Jobs used at the launch of the iPhone demonstrating how quickly it runs on GPRS agains the iPhone on Wi-Fi. On GPRS, Mini is faster. We did it for fun.
Opera Mini is not the same as the browser you have on iPhone, or desktop Opera - there are things Opera can do that Mini can't do, but for most general uses Mini does the job.
Andrew Brown, a big fan of Opera, wrote that he chose to move to FireFox because it was more compatible with new websites, partly citing Flickr compatibility. Do you feel you're falling behind?
We've always been moving in a space where people come up with their own ideas all the time. Now Netscape 4 is out of the market, so compatibility with that isn't so important; IE6 is fading, while IE7 has more compatibility - does that mean problem has gone? As people make more and more applications we see more and more standards. IE in particular has its own stuff, but that's part of the reason us, Apple, and Mozilla work on submitting new standards to the W3C, and getting them adopted. So we're quite optimistic.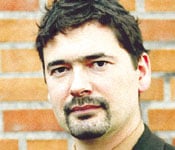 Opera CEO Jon Von Tetzchner
It's a chicken and egg situation, which means we need to get more users. And we are. We have by far the most used mobile web browser. Net Applications' survey is showing Mini as the fifth most used browser in the world and in some countries it's beating Safari, and others it's beating Mozilla. The Nintendo Wii is also helping and we're working on new version coming out.
We're also spending time with the services, with Google and Yahoo! discussing compatibility.
To be frank, it's not difficult for them to make this work. There's one guy who fixed bugs in Google and he used a JavaScript thing for Opera which fixed Maps and Mail. We are also actively doing what we can - changing how Opera identifies itself is often enough to fix the problem. We'll do whatever it takes.
Opera market share is increasing, and we're putting more and more effort into hiring new people. This is not an issue that only we face. Recently, I read that 10 per cent of UK sites didn't work in FireFox, while a fair amount of people have told me their sites don't work in IE7. Safari has more problems than Opera.
We believe that with the efforts overall the browsers are becoming more compatible. The problem is going to be less and less there. There is a difference between countries where we have a 10 per cent share. In Russia, Ukraine and in Northern and East European countries we have between five per cent and 10 per cent, and some above 10 per cent share; Japan similar.