Canon bulks out compact cam range
Point, shoot, zoom, etc
---
Canon has spent all its ammo in a single burst and launched not one, but five new compact digital cameras. The selection seems to offer something for almost every amateur snapper, with models ranging from a 12.1-megapixel job with scratch-resistant LCD screens to an eight-megapixel camera for less-advanced users.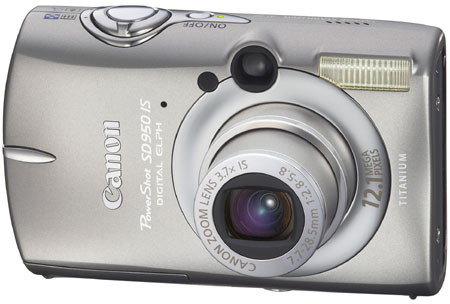 Canon's ELPH SD950/IXUS 960 IS
Expanding the PowerShot ELPH line is the 12.1-megapixel SD950 and eight-megapixel SD870 digital cameras - the IXUS 960 IS and 860 IS in the UK - with either a 2.5in or 3in LCD display screen, respectively. Each also supports a wide range of memory cards, including SD, SDHC and MMC Plus.
The SD870 has the advantage over its rival, with a 3.8x wide-angle optical zoom, while the SD950 has an ever-so-slightly less impressive 3.7x optical zoom. However, both have a maximum ISO of 1600 and multiple pre-set auto-shoot modes, although we're doubtful about how often the aquarium setting would be used.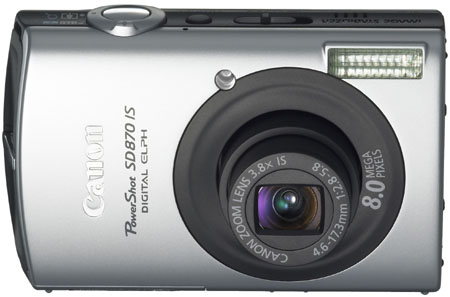 Canon's ELPH SD870/IXUS 860 IS
Canon has also created the 12.1-megapixel A650 and eight-megapixel A720, expanding the PowerShot A-Series and drifting somewhere in-between standard digital cameras and more advanced models. Both have a 4x digital and 6x optical zoom, in addition to a 2.5in TFT LCD display. However, the A650 should provides a slightly better quality image on its display with about 173,000 pixels, compared to its sibling's 115,000 pixels.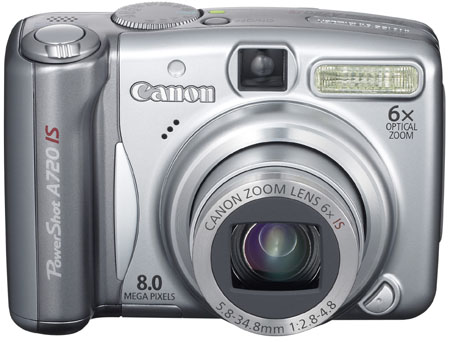 Canon's A720
The manufacturer seems to be pitching both at a more adventurous photographer as well, mentioning that both also fit into waterproof cases for scuba diving or for beach photography.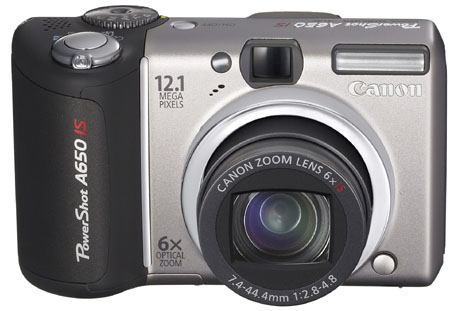 Canon's A650
The unveiling of the eight-megapixel SX100 digital camera marks the creation of an entirely new SX line within the bulging PowerShot range, but is pitched as more of a point-and-shoot camera for "soccer moms" and families.
It has more capabilities than the average point-and-shooter, with two 640 x 480 (VGA) 30fps recording modes and the ability to capture up to one-hour movies. Thankfully, it supports a range of memory cards, including SD, SDHC and MMC Plus, like most other models in the many PowerShot sub-series. It also ships with a 16MB MMC Plus memory card.
A 2.5in LCD screen is built-in and the camera has a 4x digital and 10x optical zoom, with a maximum ISO 1600 and a wide range of pre-set shooting modes, also including the aforementioned aquarium mode.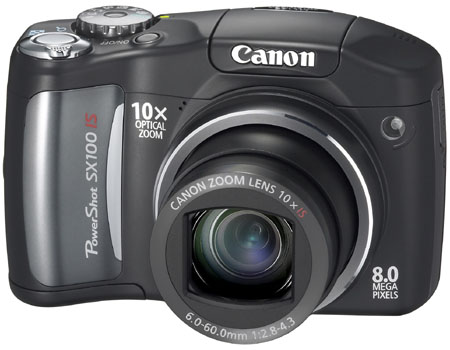 Canon's SX100
The SD950 and SD870 both retail for about $450 and $400 respectively, while their European equivalents, the IXUS 960 IS and 860 IS, will go on sale next month for £369/€549 and £299/€449, respectively.
The A720 and A650 also retail in September, for $400/£229/€339 and $250/£329/€489, respectively. UK camera chain Jessop will offer the A720 from the end of August, Canon said.
The SX100 will be available in the USA in October and retail for around $300. It debuts in Europe in September for £299/€449. In the UK, it'll only be available from Dixons' stores.