This article is more than 1 year old
Doctor faces High Court battle with GMC over weblink
Investigation into 'confidential' PDF
Exclusive A mental health doctor is headed for a showdown with the General Medical Council (GMC) in the High Court because she is accused of breaking confidentiality by posting a link on her blog.
Dr Rita Pal's link led to an American site called Furious Seasons, which had published a PDF of the minutes of a July 2006 fitness to practice hearing of the British Psychological Society (BPS).
The hearing concerned Lisa Blakemore-Brown, a psychologist who has been involved in several high profile child health controversies. Her work included highlighting the controversy over Munchausen's Syndrome by Proxy, a disputed theory that was used to obtain several wrongful child murder convictions.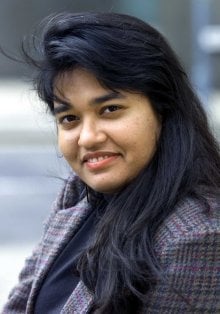 Dr Rita Pal
The hearing garnered attention from bloggers who highlighted the BPS's use of testimony from a psychiatrist who , according to the minutes, had not actually examined Blakemore-Brown.
Dr Pal was forced out of her locum job at Worcestershire NHS Trust in early May after managers got wind that she was being investigated by the GMC over the link. The GMC is the statutary body responsible for regulating doctors in the UK.
Dr Pal is part of a team which produces NHS Exposed, a campaigning website that aims to "obtain justice and fair treatment for those abused by the NHS".
After featuring the Blakemore-Brown case on NHS Exposed, she was notified by the GMC that it had received complaints and would investigate two of them under its own fitness to practice procedures. She stands accused of breaking the GMC's confidentiality rules.
Lisa Blakemore-Brown has said that she had not been aware that the minutes were going to be published online, but had no objections once they were.
The BPS first accused Blakemore-Brown in January of breaching its confidentiality rules, which she said was "laughable". She added: "I'm absolutely staggered they [the GMC] should drag Rita into it, especially because all she did was put a link up; she wasn't the first to publish it."
Rita Pal's lawyers have now applied to the High Court for a judicial review to have the case against her dismissed before any GMC hearing.
Dr Pal told The Reg: "It's bizarre. I linked to a document which was already public."
Another UK doctor's blog, Scientific Misconduct, also posted a link to the hearing minutes, but its operator, Dr Aubrey Blumsohn has had no contact from the GMC.
He said, on his site: "I wrote to them asking for clarification of their complaint against Dr Pal, clarification as to the relevance of the matter to their remit, and what offense they regard her to have committed under GMC rules so that I could properly accuse myself. I received acknowledgement but no reply."
A secondary accusation of falsely using the job title "psychiatrist" is also disputed by Dr Pal's lawyers.
Worcestershire NHS confirmed that Dr Pal left after it became aware of the GMC's investigation, but refused to comment further, citing confidentiality.
The GMC said it does not comment on ongoing investigations. ®