If your wrists crack like an OAP's and your back aches from hours spent in the chair, then why not go the whole hog and invest in an ear-blistering gaming speaker system. The latest set from Logitech promises to deliver an immersive gaming experience and to even identify the direction of bullet fire.
The PC and Mac compatible G51 surround system provides 155 watts of root mean square power via four 20 watt satellite speakers, a 19 watt centre channel and a 56 watt subwoofer, with a combined total peak power of 310 watts. A control pod, with sticky silicone feet, also gives you more buttons to fiddle around with while blasting aliens from other galaxies, allowing for adjustments to the master volume control, subwoofer, centre, and surround sound levels.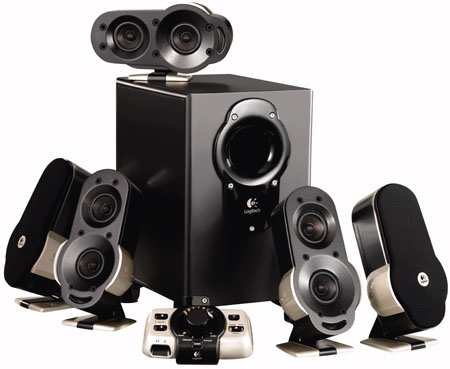 Will the G51's audio quality match up to its mean looks?
Logitech said the system, which is an addition to its existing G-series of gaming peripherals, provides 5.1 surround sound from a two-channel stereo source and features headphone jacks for when you don't want to wake the missus and a microphone jack for when you fancy a bit or karaoke. It also houses two drivers in each satellite speaker to overcome high-frequency overlaps known to cause 'uneven' sounds.
Each satellite speaker has a rotating base, which should help you aim the speakers with greater accuracy, and the whole system splits the received audio signal into six channels, without degrading quality.
It's also nice to see that Logitech allows gamers to mod the four left and right-hand speakers with their own artwork, so may we suggest a bullet-riddled pattern for that authentic look?
The Logitech G51 Surround Sound Speaker System is expected to be available in October for around £150 (€190).