Production of Nokia's troubled E90 "Communicator" has been halted, the company has confirmed to Dutch trade paper Telecom.
The device has been plagued by small production problems, but one rather larger design problem. Early adopters, some of whom have paid over $1,000 for the latest incarnation of the "brick", have complained about dust getting behind the fascia, and uneven feet (that's the phone's rubber feet, rather than their own).
Nokia says a microphone glitch is responsible for this delay, however, and that production will soon be back up and running.
Fixing such minor mechanical issues should be trivial for Nokia's fabled engineers, but the bigger problem is that the company has alienated much of the core business market that made the Communicator a profitable niche.
It was never a volume business for Nokia, but large enterprises liked the mature support for IBM and Oracle middleware, while enterpreneurs and sales forces appreciated the fax and sophisticated messaging.
The E90 is the most powerful hardware Nokia has ever assembled in a phone, but by throwing out a sophisticated, designed-for-QWERTY user interface and replacing it with a Noddy replacement, and less functional applications (as well as omitting much-valued features), the E90 represents a downgrade in almost every practical respect (for example, this more modern "upgrade" can't even display HTML messages properly, while the one it replaces could).
So the arguments have intensified on web discussion boards, calling for the return of the old user interface and application stack, or a modern like-for-like replacement. [example].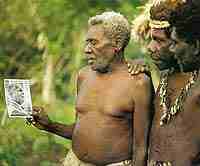 Phone bloggers peruse the latest Nokia specifications
"We've got great feedback, Olli-Pekka - the bloggers love it!"
As we reported here recently, the nutso choice of using a one-thumb interface for what's really a powerful mobile computer is being justified on economic grounds. But this is simply the end result of years of lack of a strategic direction, political infighting, and the consequential lack of investment in enterprise software at Nokia.
The Finnish giant actually had the foresight to plan for a sophisticated successor to the Communicator's Series 80 platform within months of launching the first Series 80 Communicator in 2001. Nokia drew up a roadmap [*], and the following year came within two months of announcing a next-generation Communicator [**] based on this more advanced software. It scrapped the phone, and returned to updating Series 80. Then it scrapped the replacement platform [***]altogether.
After such a series of blunders, it had nowhere left to go.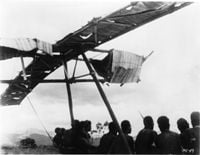 "We've made a Communicator!" - just what old Psion users have been waiting for?
So why the "Cargo Cult" metaphor? Here's how physicist Richard Feynmann described the phenomenon:
"In the South Seas there is a cargo cult of people. During the war they saw airplanes with lots of good materials, and they want the same thing to happen now. So they've arranged to make things like runways, to put fires along the sides of the runways, to make a wooden hut for a man to sit in, with two wooden pieces on his head to headphones and bars of bamboo sticking out like antennas - he's the controller - and they wait for the airplanes to land.

They're doing everything right. The form is perfect. It looks exactly the way it looked before. But it doesn't work.
Go figure. ®
Bootnotes
[*]: That's the joint venture with Psion based on the Hildon UI, that we mentioned back here in January 2002. [**] The press caught wind of this triband GPRS model here, ten months later. [***]A year later some of this work eventually appeared as Series 90, which was orphaned in another reorg in 2005.
Similar topics